Creative Art'n'Soul Journaling
Creative Art'n'Soul Journaling is a place to explore techniques for making beautiful journals, and processes for using them. Every month a new video workshop will inspire you to create and play with fabric, thread and paper in a whole new way to make beautiful and creative journals that can be used as a place to hold and treasure your personal stories.
This Month's Online Video Workshop
The Untamed Garden Journey Journal
Wild Soul
Art Journal Challenge
a journey of creative unfolding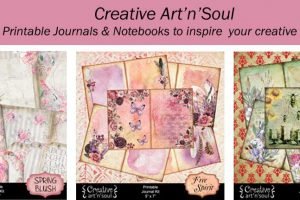 3 days only - save 20% on all digital downloads! here in the Creative Art'n'Soul Store on Etsy! No coupon needed! Sale ends midnight 12 May 2019 Mother's Day is just a few days away, and if you're looking for a handmade gift that's thoughtful but quick and easy to...