As we move toward the end of the year, it's difficult not to be thinking and planning for the new year. I always find the end of year/beginning of year to be a stressful time with so many things that must be finished before the year ends and so many things that have to begin with the new year.
With so much to prepare for both in my business and my personal life for next year, this month I'll be focusing on clearing away tasks, thoughts, and things that are not really important at this time, in order to make a space where I can begin to create a vision of how I want next year to look for me. So my Vision Card for November is titled "Space".


I used one of my favorite hand stitches – scattered seed stitch – to fill in the background to represent my scattered thoughts, and several pieces of stamped fabric to represent my tasks.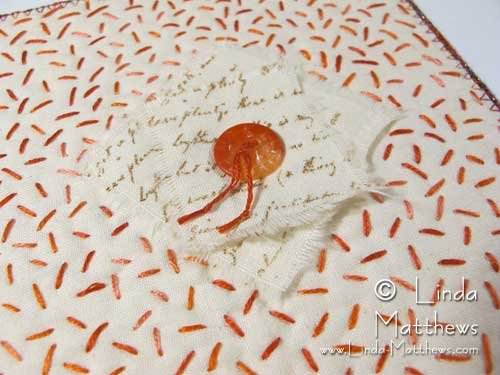 I like these little metal frames found in my local craft store and I finished the edges using machine wrapped cording. This is one of my favorite embellishments and you can find a tutorial for making this here, and tutorial for finishing edges with it here.