Nature journals are one of my favorite types of journals to make. As an amateur photographer and nature lover, I love to capture the things that I see through the lens of my camera and use those photos in my journals. I also like to incorporate real bits of nature onto the pages of my journals, such as flowers, leaves and twigs; things that are flat enough to fit on the pages without creating too much bulk.
My new journal is the Book of Days Journal which is also my latest online class. This journal is filled with beautifully textured blank pages that can be used to capture and record the things that you most want to remember. Although this type of journal could be used as a memory journal for recording all different types of events, I'm using mine as a nature journal so I made the pages in earth-colors and rough texture. You can find out more about this online class here.
One of the things that I love about this particular journal is that even though the pages are blank, they're still interesting and creative because they're already painted and textured. It's not like opening a blank journal and staring at a stark white page and wondering where to start. The textured pages invite you to fill them in with images and photos, or little fabric collages which are what I like to make.
The design on this page was too beautiful to completely cover up.
And on this page I thought I'd try a different type of stitching on this leaf. I normally stitch around the outside edge of the leaves to hold them in position, but this time I stitched on this fresh green leaf using some little french knots.
Stitching on fresh leaves was a little challenging to begin with because the leaf began to tear each time I made a stitch, so in the end I used a bit of tearaway stabilizer underneath to make it easier to sew. This worked like a charm and allowed me to easily stitch on the leaves. Once I got started it was hard to stop.
Preventing the Edges of Leaves from Curling
I like to let my leaves dry out a little before I glue them permanently onto my journal page. As the fresh green leaves begin to dry out, they change color and become more interesting to look at.
One of the challenges of allowing loose leaves to dry, is that sometimes the edges curl which makes it difficult to sew or glue them in place. To prevent them from curling, simply place them between the pages of a book to press them flat. These leaves haven't dried out enough yet, so I need to wait a few more days before they begin to change color. Once I'm happy with the color I can preserve them and use them in my journal.
Preserving the Color of Leaves
These leaves in my Nature of Things journal, were all green when I sewed them, and then I allowed them to age. Once I was happy with the color, I rubbed some glue over the top of each leaf with my finger until each leaf was lightly coated. The glue acts as a preservative, and once it dries the color of the leaf is retained. My favorite glue is Elmers Craftbond, however any basic glue will work.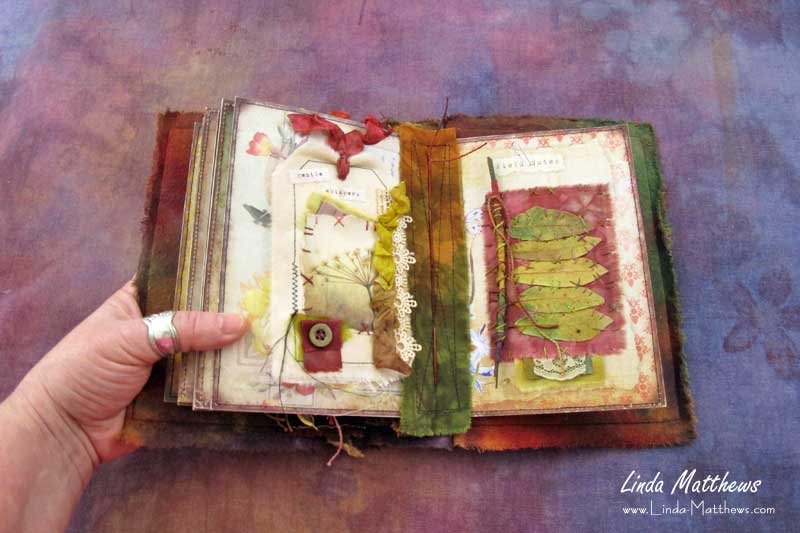 This is the journal page almost two years later and the color hasn't diminished or changed at all.
This page is from my Taking Flight journal and I used green leaves that were freshly picked and then preserved with a layer of glue.
This journal page is now about 2-1/2 years old and the color of the leaves has dulled but is still green. I don't find thse green leaves as interesting as dried leaves, which is why I like to let them dry out a bit and change color before I use them in my journals.
Sewing Dried Leaves
Dried leaves can be a little tricky to sew particularly if they're too dry and brittle, in which case they tend to just disintegrate. The trick is to find them when they have just turned brown but not yet dried out completely. In this state they are quite easy to sew. I also rub glue onto the surface of dried leaves, not so much to preserve the color, but to prevent them from completely drying out and becoming brittle over time.
Make Your Book of Days
Sign up for Unraveling the Mystery and discover creative techniques for making your own Book of Days