Making mixed media textures using pastes, gels, and other textural elements is one of my favorite things to do. It's more like fun playtime than work. I use some of these textures in my mixed media artwork, but mostly I like to transform them into digital form and use them in my PhotoArt.
Converting your real textures into digital textures is very easy, and once it's converted into a digital file, you can reuse it over and over again, as well as change the color and other aspects of the file very easily in Photoshop and Photoshop Elements.
This textured piece was made on mixed media paper using a combination of different pastes and gels, paints and inks, as well as stamps, stencils and other inclusions. The colors and textures turned out amazing.


To turn it into a digital file, I simply scanned it in high resolution using the scanner on my 3-in-1 printer, and saved the file as a jpg. Another way to do it is to take a photo using the high resolution setting in your camera.
Then I opened the file in Photoshop Elements and made some adjustments to the color. There are several ways to change colors in Photoshop Elements, but the quickest and easiest way is to add a hue/saturation adjustment layer.


And then start playing with the sliders.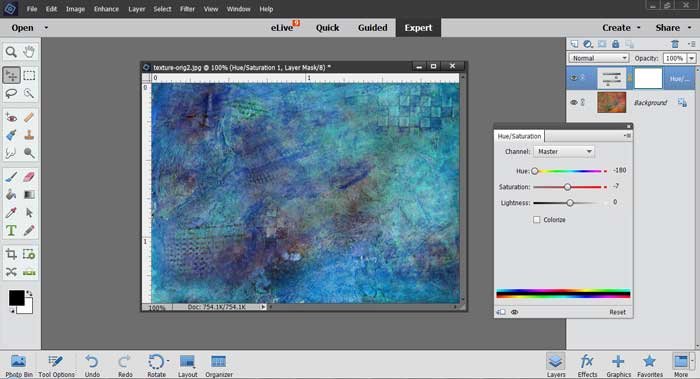 Once you've found some colors that you like, save them as separate files and then you can use them to create your own unique PhotoArt.