This week I'll be doing some fabric dyeing as I need some color coordinated fabrics and fibers to use in my fabric art journals. I like to use fabrics and fibers of a similar color palette when making journals, because they help to provide a cohesive look to support the story that I'm telling.
One of the best ways I know to create a collection of fabrics and fibers that is coordinated, is to bundle a bunch of different types of white fabrics, fibers and threads, and then dye them all together using the same dye colors. What results is a collection of fabrics and fibers that are similar in color but not the same, and are different enough to be interesting and unique. This happens because different types of fabrics and fibers attract dye in very different ways. I've been dyeing my own fabrics and fibers for over 25 years, and I never seem to get tired of dyeing in this way – it's always a surprise.
Today I thought I'd share my experiments using Procion dyes and faux snow which is a fun and easy dyeing technique and results in completely random, unique, and interesting dye patterns.
First I gathered a bundle of fabrics and threads and soaked them in a soda ash solution which is necessary to make sure the dye sets. Then I scrunched them and arranged them on top of a wire rack suspended over a plastic container. This allows the ice to drip through as it melts.


Then I made my faux snow by crushing up some ice cubes in my blender until they had the consistency of fine crushed ice – faux snow.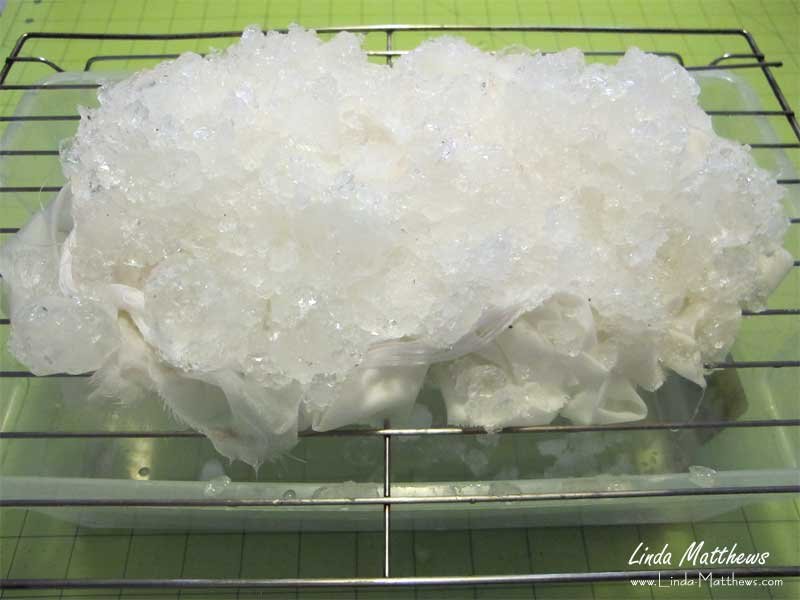 For this bundle, I used dye powder rather than dye solution, and sprinkled several colors over the top of the snow.


Then I set it in a warm spot outside the front door and let the ice melt and do its thing. After an hour the ice had melted completely so I let the colors cook for another 2 hours.


After washing and drying, here are the results…
A fat quarter of cotton fabric. The white marks were caused by packing the fabric too tightly which prevented the dye from seeping through.


I don't mind the strong markings however I used a yellow dye color that was mixed, and the colors split during the dye process leaving a green halo around the edges which I find distracting. So I think I'm going to overdye this piece to tone down the green.


This is a piece of rayon velvet which I love. Once again the yellow dye split leaving some green halos around the white edges, but they are hardly noticeable on this piece.


This is a piece of silk organza which didn't turn out with much color variation so I'm going to overdye it to make it a little more interesting.


This was a piece of what I thought was semi-sheer cotton, but turned out to be a cotton/poly blend. When dyeing fabric blends using Procion dyes, the dye will color the part of the fabric that is natural such as cotton or silk, and will not dye the fibers that are man-made. This usually results in a pale or subdued color, which is a nice contrast to the other strong colors.


I can't remember when I last bought hand embroidery threads because it's so easy to dye your own! These colors turned out beautifully soft and subdued. Cotton on the left, silk on the right.


By using different fabrics and fibers, all dyed with the same colors, you can end up with a unique collection that is color coordinated yet very different. There is nothing worse than having colors that lack contrast and look too much the same.