Half the fun of sewing bags and purses – or anything really – is adding some embellishment. It's like adding the the icing to the cake. It's the final touch that makes your sewing project really special. And for me, one of my very favorite embellishing techniques is using the in-built decorative machine stitches on my sewing machine.
My sewing machine has quite a few decorative stitches (although I could probably enjoy a few more) however I make do and try to be as creative as I can using what I have.

Sewing for Success
Successfully sewing decorative stitches can be a little challenging because they often tend to pucker on top and create birds nests in the bobbin area. But once you learn the tricks to prevent these problems, embellishing with decorative stitches becomes fun and exciting.
To overcome the most obvious problems when sewing decorative machine stitches, follow these steps:
Use a stabilizer underneath your fabric to provide support. If you're sewing on a single piece of fabric, use tear-away or iron-on stabilizer. If you're sewing through several thicknesses of fabric, you may not need stabilizer but it's best to test first – unsewing (unpicking) decorative stitches is not easy. And if you're sewing on a quilted area, the batting or fleece usually provides enough support.
Sew slowly.
Slightly loosen the top tension.
Use fine thread in the bobbin which will prevent birds nests from occurring in the bobbin area.
And you can find more helpful hints in this article – My favorite tips for using decorative stitches.
How I use Decorative Machine Stitches
I use decorative machine stitches as embellishment in lots of different ways and on all sorts of sewing projects. You can see some of the ways I use them here. And for bags and purses, they can also be used to embellish in lots of different ways.
I've used decorative stiches to finish the edges of some of the applique designs on this upcycled tote bag. It really makes the design stand out. You can read more about this bag here.


Decorative stitches are perfect for adding embellishment to the seams on patchwork, and quilt-as-you-go seams as I've used on this small purse. You can see how I did it here.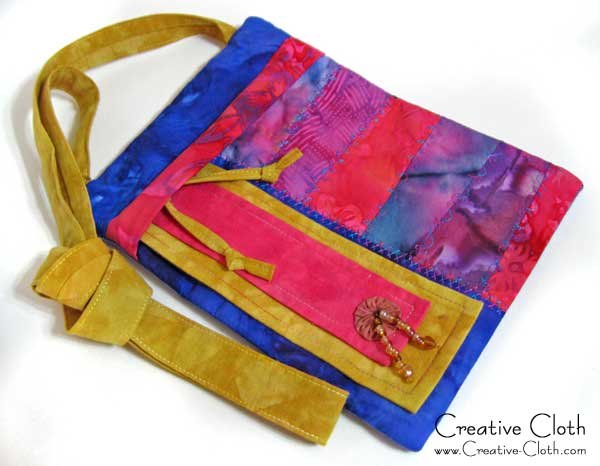 And they can also be used for finishing the seam edges on fusible piecing or applique. On this small clutch purse I've added a fusible border and finished the edges using decorative stitches with metallic thread.


Decorative stitches can be used in place of straight stitch when sewing quilted items. On this purse, I've used them to embellish the body of the bag as well as sew up the side seams.


And if your feeling a little more adventurous you can even make your own fabric using decorative stitches. The flap on this purse was made using Art Lace which is made using decorative stitches and water soluble stabilizer. You can find a basic tutorial here.