I simply *love* using the programmed decorative stitches on my sewing machine as a way to embellish my sewing projects and also for functional purposes. But do you sometimes find it a struggle to come up with ideas on how to use them?
Struggle no more! These creative ideas are sure to inspire.
And for troubleshooting problems when sewing decorative machine stitches, be sure to check out my article – Tips for using decorative machine stitches.
1. Stitch in the ditch
Instead of using a straight stitch when stitching "in-the-ditch" on your quilts, try using a decorative stitch instead. This example is sewn using a metallic thread to add a bit of glam and glitter.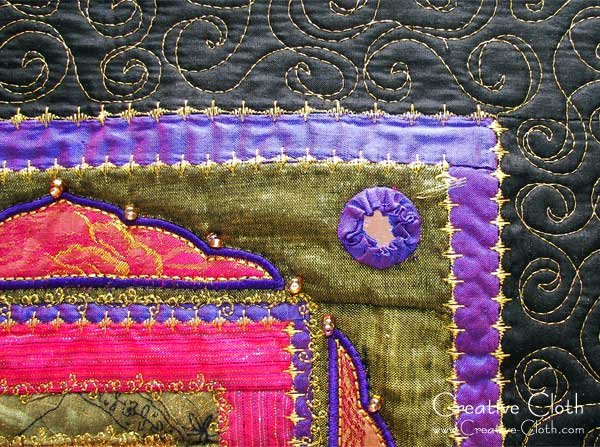 2. Bindings
Instead of hand sewing the bindings on your quilts, a decorative stitch can be a super quick and interesting way to sew down your bindings.


3. Couching
Use a decorative stitch instead of a standard zig-zag or straight stitch when couching decorative fibers or ribbon.


4. Machine lace fabric
Use decorative stitches to make fabulous contemporary machine lace.


5. Surface texture and decoration
Use decorative stitches to add surface texture and decoration to your fabric. For example, I often use them when making fabric beads.


6. Faux ribbon effect
By adding a couple of narrow rows of straight stitch on either side of a decorative stitch, you can quickly make a faux ribbon effect.


7. Raw edge applique
Use decorative stitches to finish off the edges of raw edge applique designs.


8. Decorative top-stitching
Use decorative stitches to embellish or top-stitch. For example, I've used them to top-stitch the pleats on this pleated insert used on art quilt.


9. Focus fabric from ribbon or fabric strips
Make focus fabric by placing strips of ribbon or fabric side by side on some fusible interfacing and use a decorative stitch to sew the strips together.


10. Machine lace edging
Use decorative stitches to make delicate and contemporary machine lace that can be used for edging and trim.


I could add more, but I've run out of time! However I'm sure this is more than enough to get you started using your decorative stitches and once you start using them, you'll probably come up with dozens more ideas.