Silk carrier rods are curious little things but I love them because they have such an unexpected shape and texture and they can be adapted for use into fabric, mixed media art and felting in lots of different ways.
Silk carrier rods are the by-product of reeling silk from the cocoon. As the silk filament is unraveled from the cocoon into skein form, some of the filaments get wound around the machinery. This silk, with the sericin (natural gum) still in it, is then slit and removed.
Sometimes the rods are cylindrical showing the shape of the machinery rod. I call these type rigid because they're quite stiff.


And sometimes the rods are thinner and have been pressed flat. I call these type soft although they still have quite a bit of crispness about them like the texture of dried leaves.


The difference between the two types is simply in the way that the manufacturing plant chooses to salvage and store them. Some factories take a little more care than others and you end up with fairly clean and nicely shaped rods. Other factories toss them into a pile and squish them flat. And you will often find tiny remnants of the worms embedded in the fiber. Both types have creative uses though, and neither type is really better than the other.
The rigid type often bends into strange curved shapes during the dyeing process, but are easily straightened more or less by gently bending them and straightening them out.


This type of carrier rod can be used as unique dimensional embellishments that can be hand-sewn onto a background of fabric, canvas or other textile, or even glued onto a paper background.
Or they can be made softer by soaking in warm water for a few minutes or so to release some of the sericin. When they become soft, the layers can then be peeled apart and used in other ways.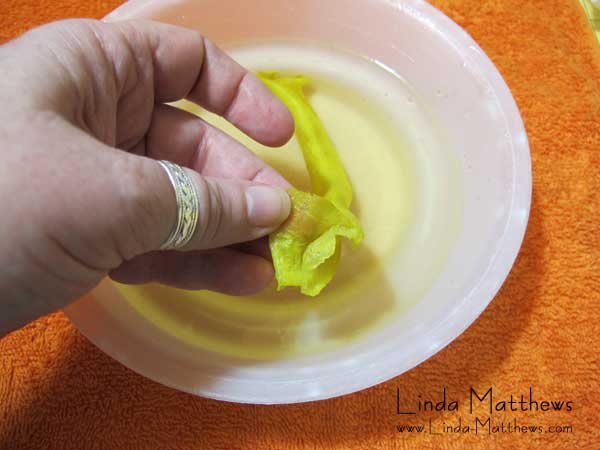 How to use carrier rods to make silk paper
One of my favorite ways to use carrier rods is to make silk paper. Silk paper can be made in various different ways using silk tops or other types of silk fibers, and is called "paper" only because the resulting sheet is quite stiff like paper.
When making silk paper from silk tops or other silk fibers, glue is added to create the stiffness. But when using carrier rods, additional glue is not needed because the natural sericin is what makes the resulting paper stiff.
To make silk paper gather a bunch of soft type silk carrier rods that have been peeled apart into thin layers.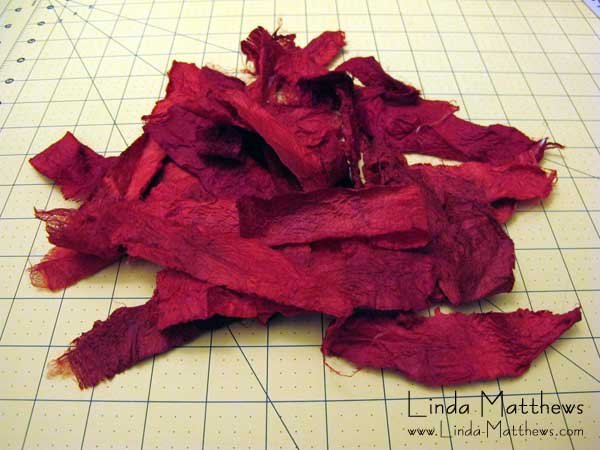 The soft type carrier rods usually have either one or two, and sometimes three or four, layers that can be easily peeled apart without soaking in water.


For this application you can use rods that have already been dyed, or you can use undyed rods and then after you make the silk paper you can dye or paint it.
For the first layer, place the rods on top of a piece of parchment paper, slightly overlapping the edges with all the rods facing in the same direction.


Spritz generously with some water. Place another layer of rods on top of the first layer, then spritz again this time giving it a good soaking right through.


Place another piece of parchment paper on top and press with a hot iron. Keep ironing until the whole thing is dry and the layers are fused together.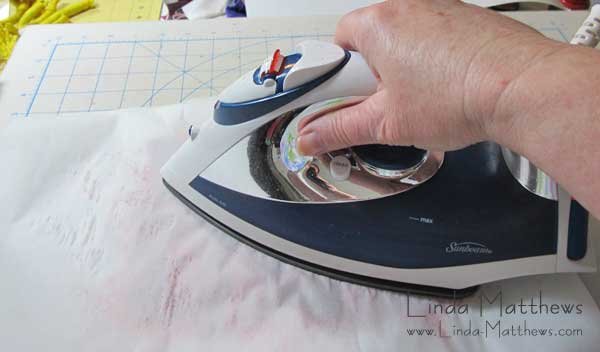 Once the silk paper is dry, it will be slightly rigid. You can now cut it, sew it, make shapes with it or use it in any way you like. And because it's made of silk, it has a beautiful sheen and it's very strong.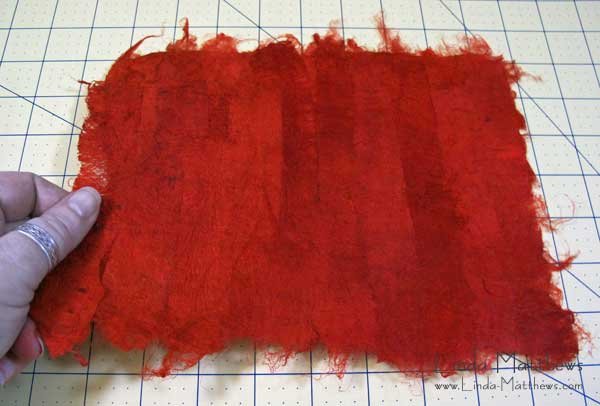 I'm not sure how I'll use this sheet but I'm gathering bits and pieces I've made over the last few weeks which you can see here and here, and perhaps I'll combine them into something.