Printing on fabric using an inkjet printer is one of my favorite ways to transfer images to fabric. It's easy, fun and best of all, you can print your own artwork onto fabric and then use in your sewing projects and textile art!
It's quite easy to print images onto fabric and get quite good printed images like this camera cozy that I made using one of my own photo art images. Everyone comments on this case every time I whip my camera out.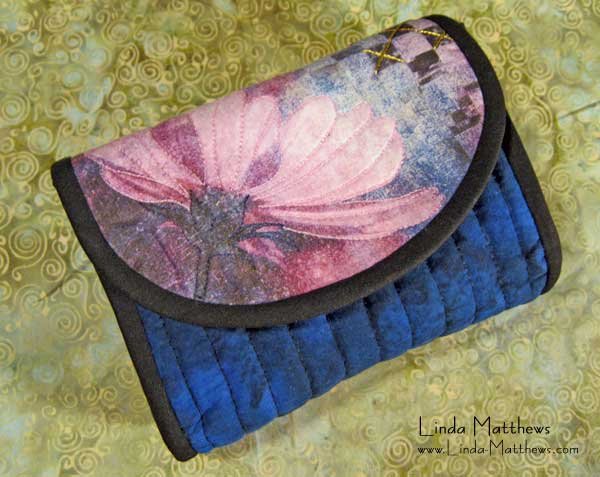 But what do you do when you want *great* results?
Such as printed images that can be used in artwork like the ones I use to make my art bags.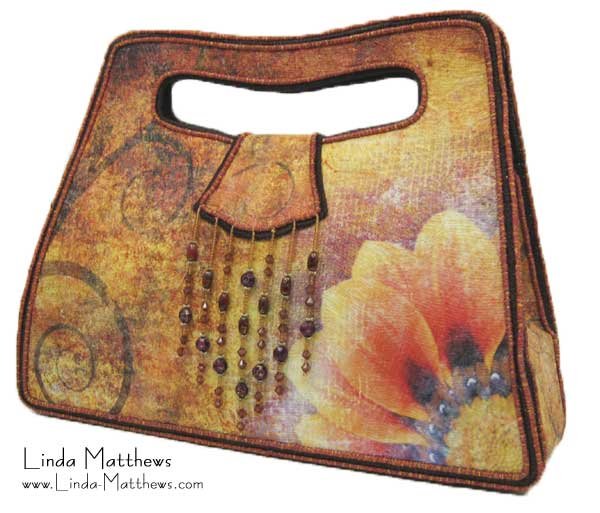 This is not only a great print, but it's also printed on textured fabric paper.


Well I'm glad you asked!
What you do is take your art to the next level by using products such as Inkaid which is a pre-treatment that can be painted onto fabric and will turn your printed images from just ok to something really special indeed. These products are designed to enhance the color and print quality of your inkjet printed images.
For example, on the left is an image printed onto plain fabric using no modifications to enhance the color or print quality. On the right is the same image printed on fabric treated with Inkaid, again using no modifications to enhance the color or print quality. You can clearly see the difference in color quality.


The color and print quality that you get when printing on fabric treated with Inkaid is perfect for printing artist-quality images, not just onto fabric, but onto any flat surface that can fit through your inkjet printer.


It's worth noting though, that Inkaid will change the hand of your fabric and it will become stiff. Although … there are ways to make fabric less stiff and much more hand and machine stitchable.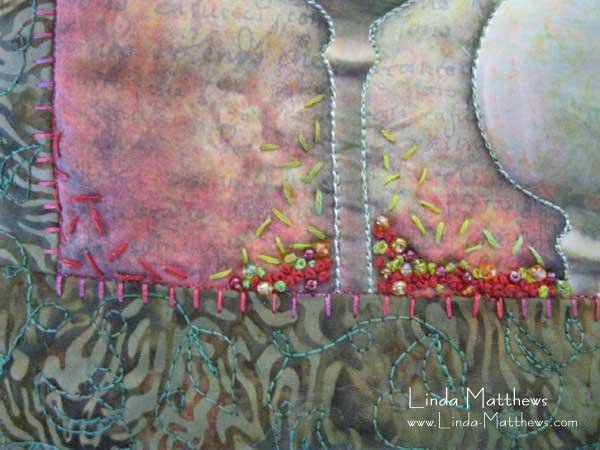 Although using Inkaid is my favorite way to print artist-quality images onto fabric, it's not the solution if you're looking for soft, washable fabric prints. There are other ways to print perfectly beautiful images onto fabric so they are soft and washable.
And this is the reason I've chosen to develop two different classes:
The Inked Cloth Workshop – where you can learn the basics of touching up your images and printing them onto fabric to get great results,
and
The Inked Cloth Unleashed Workshop – which includes the Inked Cloth Workshop plus a comprehensive exploration of all the different ways you can use Inkaid on fabric.
Between these two classes I'll be sharing the techniques I use to print my images onto fabric to get beautiful results every time.
For more samples of how I work with printed images, visit my Digital Art Cloth Photo Gallery where you'll find lots of inspiration.
I hope you'll join me in class – I'm really looking forward to teaching you how to print beautiful images onto fabric.
Learn how to print your photos and images onto fabric and get great results every time
Learn More