Printing your own designs onto fabric has never been easier. You can easily print small pieces of fabric using your own home inkjet printer, and for larger pieces of fabric including yardage, there are many different types of print-on-demand services that you can use.
Spoonflower is one of the most popular print-on-demand services that you can use to print your own fabric. They offer custom prints on a wide range of different fabrics, wallpaper and gift wrapping, and support a thriving and lively community of designers.
They have now published their own book called The Spoonflower Handbook which not only explains how to use their online service, but also explains how to create designs and patterns using many different methods. Included in the handbook are over 30 sewing projects designed to showcase your own patterns and designs.
The instructions are detailed and set out in easy-to-understand language so you don't need to be an experienced designer to get started. The only requisite you need is a basic understanding of how to use a computer; the book explains the rest.
Overall I was impressed with the structure of the chapters – each chapter building on the next, with pertinent information fully explained in language even a beginner can understand. Even if you choose not to use Spoonflower to print your custom fabric, the information can still be used as a basis for creating your own patterns and designs. There's a lot to learn. You can grab your own copy of The Spoonflower Handbook here on Amazon.
Let's take a look inside.
The Spoonflower Handbook: Part One
The first section of the book explains the basics of how to use the Spoonflower platform and then goes on to cover topics such as fabric recommendations, digital design explained in plain language, color selection and working with color. This section concludes with a tutorial for creating simple designs using repeating patterns.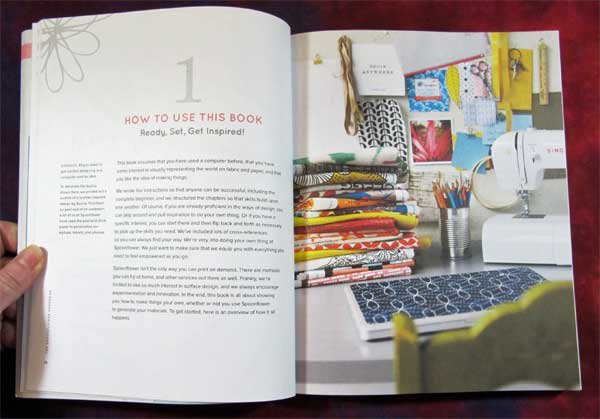 The Spoonflower Handbook: Part Two
The second section of the book builds on the basics explained in section one and gives you step-by-step instructions for making projects using different design techniques which are fully explained.
Raid the Junk Drawer – Design with Found Objects
Use objects that can be found in the home and learn how to scan, size, and crop the resulting image so it can be used as a fabric design.


Through the Viewfinder – Design with Photos
Use your own photos to create designs, and also learn how to resize and cut sections that can be used to create repeating patterns.


From Paint to Pixels – Design with Drawings, Painting & Prints
Use your own original sketches and artwork to create designs, and learn how to scan and clean them up in your photo editing software.


Read All About It – Design with Words, Text and Layers
Use words and numbers to create designs that tell a story, and learn how to use layers so you can manipulate each piece of your design independently.


The World of Vectors – All-Digital Designs
Learn how to work with vector-based images which is artwork that is created directly on your computer. Vector images give you the flexibility to scale designs to any size without losing quality.


No Repeats Necessary – Design Cut & Sew and Whole Cloth
Learn how to make whole cloth designs that don't necessarily contain repeating patterns.

Additional Resources