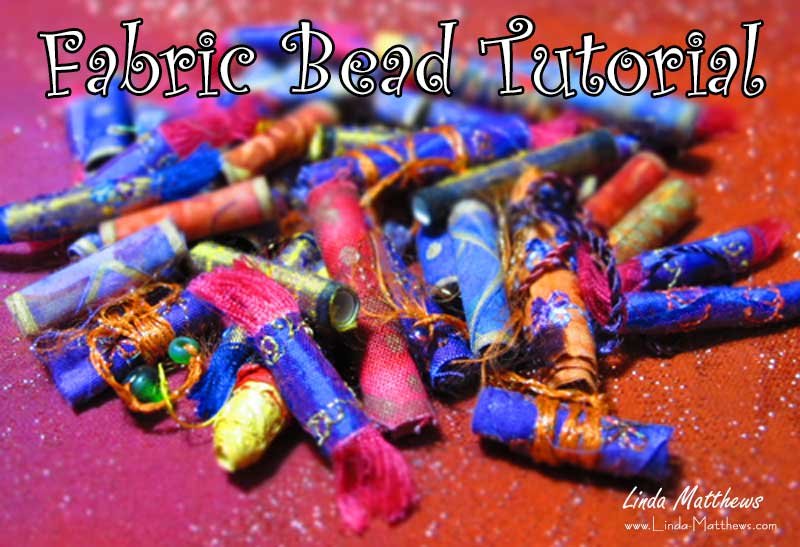 Fabric beads are easy and fun to make and can be used to embellish all your creative sewing projects. They are also a great way to use up all those small scraps of leftover fabric and fibers. This tutorial shows you several ways to make embellished fabric beads.
What You Need
Embellish the fabric
Here are a couple of simple and quick ways to embellish your fabric before you make your fabric beads.
You can easily embellish plain fabric using the decorative stitches on your sewing machine.
Cut a piece of fabric approximately 6″ square.
Place a piece of iron on stabilizer underneath the fabric.
Thread your sewing machine with some Decorative Thread on top, and some fine bobbin thread in the bobbin. Fine bobbin thread will help to prevent thread jams when sewing decorative machine stitches.
Choose your favorite decorative machine stitch and sew rows across the fabric from one side to the other.

Cut the fabric into strips. My favorite fabric bead size is about 1-1/2″ wide by about 2-3″ long and tapered to a point at one end.


An alternative way to embellish plain fabric is to draw a simple design using a Krylon Gold Leaf Pen. I love these pens as they work great on fabric and I use them for all sorts of embellishment touch-ups. Cut fabric strips about 1-1/2″ wide by about 2-3″ long, or the desired size, and than carefully draw a design on the fabric.

Make the fabric beads
On the right side of the fabric dab a bit of fabric glue to the squared off edge, and on the wrong side of the fabric add some fabric glue along the tapered edges. Then wrap the fabric around a piece of 1/4″ or 3/8″ dowel rod and press firmly to secure.


Once the glue has dried, you can then embellish the fabric beads with bits of fiber and beads if desired. This is a great week-end project and you'll have dozens of fabric beads in no time at all!