My art doll still doesn't have a name yet. Maybe after she has some clothes she'll tell me what it is.
The embellishing of the underskirt begins. First adding some art lace edging to the bottom of her skirt using water soluble stabilizer to support the decorative stitches.


Then a piece of machine needlelace; lacework machined on water soluble stabilizer. This will be a bib for the front top of her underskirt and will be a decoratively embellished piece that will be visible once her jacket is on.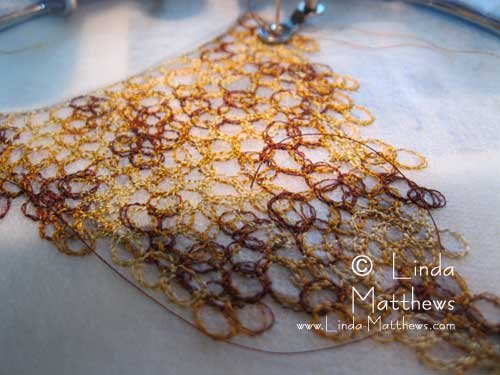 Then … disaster ….
Washing away the water soluble stabilizer from the bottom of her skirt I expected a small amount of color run-off, but my heart started sinking when I saw that the color continued to run.
With my usual "fabric printing" printer out of commission, I had used a different printer to print the fabric for the underskirt. I made sure to use pretreated fabric that was supposedly washable and permanent. But it didn't work completely and the underskirt is faded and ruined; for this project anyway. Although I could use it as a lining maybe for a purse.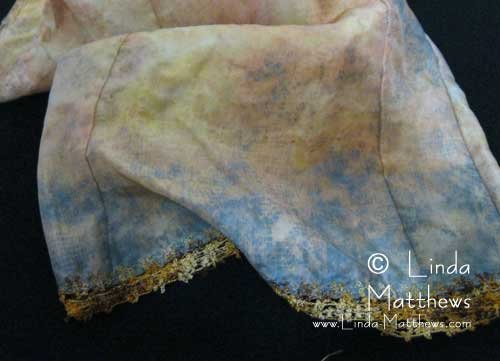 I can't do anything about it. Except wait for my replacement printer to arrive so I can start again.
Waiting, waiting, waiting. Days of waiting.
The printer finally arrives so to begin again. This time I know that the results will be better. However this time I also decide to make the art lace first and then attach it to the bottom of the skirt by hand. Not because I'm afraid of washing the printed fabric; I did a small test first so I know the ink is now permanent. But I wanted to make the lace edging a little more distressed.
I like it much better already.


And it begins to look amazing once the beads are attached. So perhaps the disaster was just an opportunity in disguise.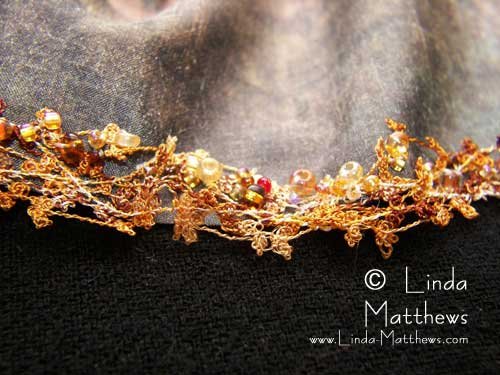 Once embellished with beads, the bib is looking beautiful also.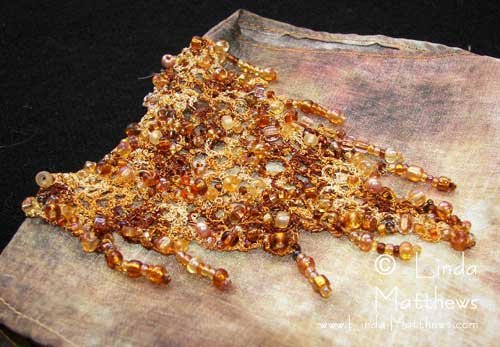 Now that she has some clothes, she looks a little pleased with herself, don't you think?


The jacket will come next.
Previous: The Story of an Art Doll: The Fabric
Next: The Story of an Art Doll: The Jacket