One of my goals this year is to make more art. And the best way to find time to do more of anything you want to do, is to get rid of stuff you don't want to do or reorganize things so that you have more time.
So this month I'm taking stock of all the things I "need to do" and "have to do", and I'm making some tough decisions about what has to go or has to be reorganized in order for me to have more "making art" time. I need to open up areas of my life that are pretty much set in stone, the things that take up so much of my time including my systems and routines for getting things done – and realign them to fit in with my changing needs. This isn't going to be easy.
So I made this month's Vision Card with that in mind and called it "Open". Like a flower opens to give its petals more room to grow, I also need to open up my life in order to allow myself room to make more art.


This time, instead of making one of my usual small Vision Cards, I'm embracing my desire for more art time by putting a little more effort into my Vision Cards and this year I'm going to make them all small pieces of wrapped canvas art so I can hang them on the wall and see them every day.


I printed one of my digital photo art images on fabric and stitched it to the backing fabric before I wrapped it around a small canvas (8″ x 10″) using the same process as I shared with you here. I like that it's art and I like the way it turned out.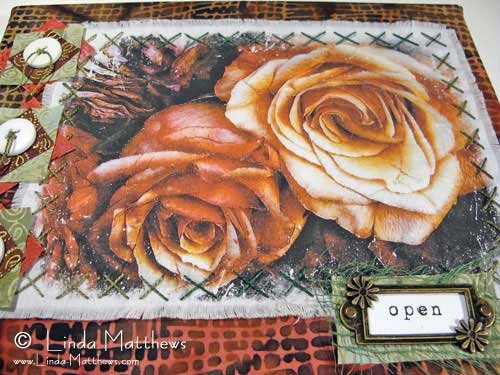 I finished this piece off with some simple fabric collage elements, and just making the small effort of turning this into a piece of art feels really good and feels like a step in the right direction.