In 2018 my business celebrates its 10th birthday!
That's right, I've managed to develop, grow and nurture a creative business for 10 years, something I never would have thought possible prior to that time.
Over those years my business has evolved and changed in lots of different ways. I've taught thousands of students from all around the world, both online and in person, how to be more creative with fabric and thread, and it's been my privilege to nurture the creative force that lives inside each of us by sharing what I do as a way to encourage and inspire your creative path also.
To my never ending delight, the creative spark is something that also evolves and changes if you give it space to bloom and grow. Which many of us don't.
I now encourage you to stop, make space, and give your artful creativity room to grow by developing a daily artistic practice.
A daily artistic practice is something I treasure and nurture. It's a special time when I allow my soul speak to me through my art as I explore new artful techniques, allow new ideas to emerge, and just have fun. I guarantee it's a practice that will change your world.
Over the years I've discovered that it's easier to maintain a daily practice when I have a long-term project or plan, and also when it's easy and fun. I know that when I look forward to doing something, I make an extra effort to show up. I think that's true for everyone.
So in an effort to help you be successful, for the last several months I've been developing new ideas, new products and a new online space where we can grow, encourage and nurture each other on our journey as we embrace our artful creativity.
Say Hello to Creative Art'n'Soul
In keeping with the belief that it's easier to develop a daily artistic practice when you have a long-term project that's easy and fun, the Creative Art'n'Soul Printable Journals are the perfect project to keep you inspired as we travel through the month's ahead documenting our days as we go.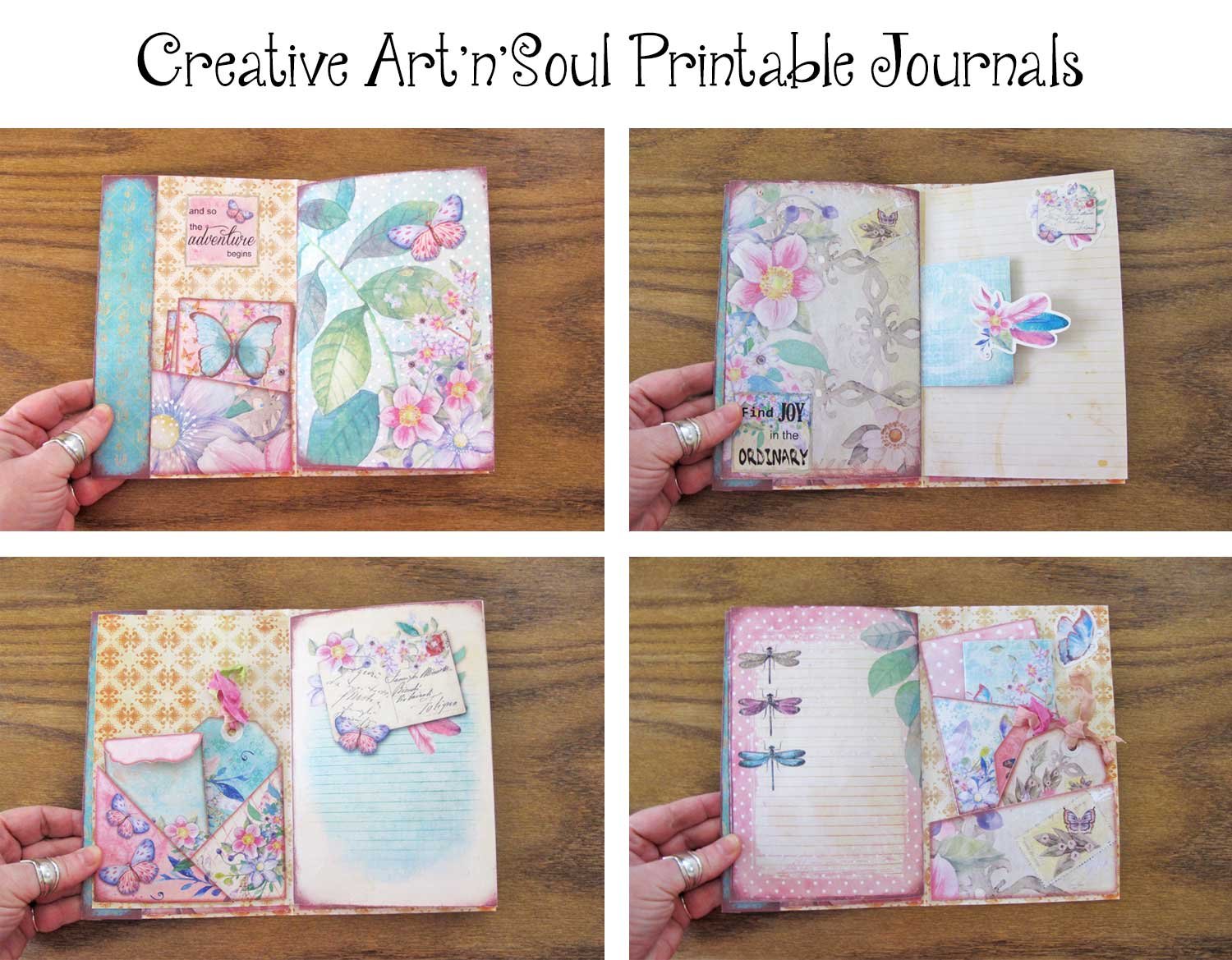 For the last several years I've been documenting my special memories using stitched mixed media journals and assemblages, and it's such a delight to look at these things and remember the memory that inspired them. I particularly love the journals that I've created along the way which are the perfect vehicle for recording and saving each memory. It was this idea that inspired these printable journal kits which are much easier and quicker to work with, and also a lot of fun to assemble.
These journals are designed to be used as is – just print and assemble – or mix'n'match with hand-made pages and stitched mixed media to create an artistic monthly journal. The pages are intended to document the special moments in each day in an artful, fun and creative way. One day, one page, one special moment – a new journal every month. At the end of the year you will have 12 beautiful journals filled with a year's worth of memories. The first printable journal is themed "Taking Flight" – the perfect sentiment to begin a new adventure.
Developing and maintaining a daily artistic practice is one of those "simple but not easy" things, however I do hope you'll join me – I guarantee it will be fun and creative.
I'll be sharing helpful techniques and tutorials on how to assemble these creative journals right throughout the year but in the meantime check back here on my blog on Monday 1st January 2018 when the whole thing gets going.
You can find details and information about how to get started here.