At first thought painting on silk fabric might seem a little challenging, but you can paint on silk fabric just as easily as you can paint on cotton fabric. And when creating painted texture, I love to use one of my favorite fabric paints – Jaquard Dye-na-Flow. These paints are like colored water so the colors mix and blend together similar to fabric dye.
I wanted a variety of coordinating colors with some visual texture, so after I painted the fabric I sprinkled each piece with some salt and pinched the fabric into little mountains. I also toned down all the colors with a touch of black so they weren't quite so bright.
This is cotton lawn which is very light and sheer, painted with a blend of blue and purple and this is how it looks still wet from the fabric paint and sprinkled with a little salt.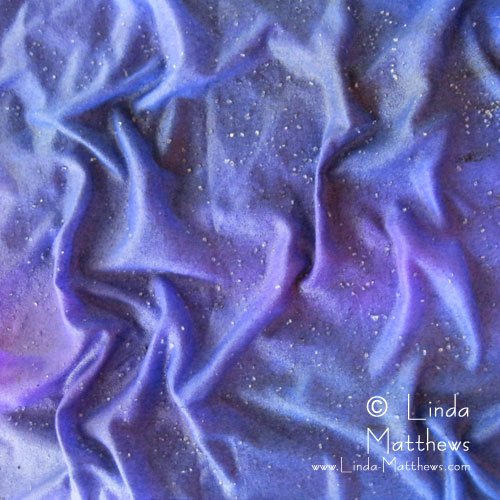 After the fabric has dried you can see how the salt has drawn the color, and how the mountains have separated the paints into light and dark shades creating beautiful visual texture.


This piece is silk habotai which is very soft and thin, painted in a bright blue. You can see bits of black that didn't blend in properly but this actually gives a nice contrast to the color.


This is some very thin silk charmeuse. I *love* how the colors turned out on this piece; it's an aqua blended with blue and looks like a foamy sea.


This is a synthetic silk type fabric but I like it because it has a nice crinkled surface. The colors are orange blended with a golden yellow.


And this piece is a cotton lame which already has a beautiful shimmer to the fabric. I painted this one with Jacquard Lumiere metallic paint and it finished with a beautiful sheen and sparkle.


If you've never tried painting on silk, it's very easy and produces beautiful results. I usually find Dye-na-Flow in my local Joanns or Michaels stores, but you can also get them online at various places including DickBlick.com.