Very often, making a new design for a bag is a lengthy process that requires lots of tweaking and changing things to make a design that looks good and also goes together easily, but for the last few weeks I've been making an extra special effort to focus more on going with my intuition when working with my projects, and recently you have seen me working intuitively and progressing intuitively.
Following your intuition isn't always easy to do particularly when that inner critical voice starts to chime in and I'm sure you know the one I'm talking about. It usually says things like "that looks stupid" or "no-one is ever going to like that", or a million other snipes. So I've begun a serious campaign to turn down the volume on that nasty voice.
And one of the ways it pays off is that things flow and come together easily, almost as if someone is gently guiding you and removing the obstacles from your path. So when I began this new design I had nothing more in mind than the words "round" and "clutch". That's not a lot to work with, but by trusting the process and allowing the creative flow to occur, sometimes magic happens – and quickly.
In only two days I completed this design from beginning to end – it probably would have gone faster if I hadn't stopped to record the process with photos – and I am in love with how it turned out. Simple, stylish wearable art, not just for looking at, but functional as well. Just how I like it.
I used fabric beads to provide a functional purpose for both the bag feet and as handgrips. Very often clutch bags are difficult to hold, so this unusual application worked perfectly!
Plus it has a nice roomy inside.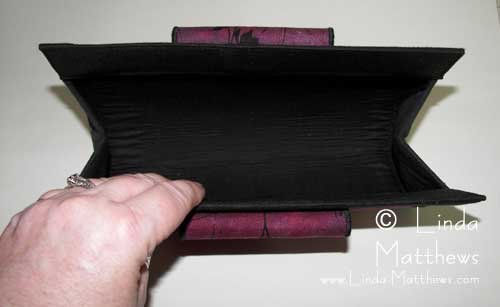 As you know I've been working a lot lately with bags and purses; designing and making them; talking about them. And somewhere along the way working with small textile art in this way has taken on a deeper meaning and I'll share more of that in the coming weeks.