I love to embellish using beads.
I sometimes add each bead one by one …


… and I sometimes add strings of beads …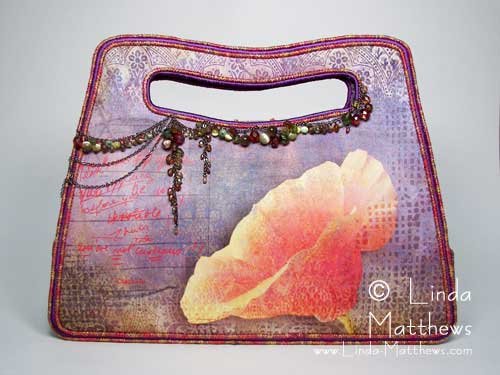 Regardless of which way you bead, you can't go past a good book for learning new techniques and also for a major dose of inspiration. I have favorites books and then I have absolutely favorite books; books that I just love and could never bear to give away. These couple of beading books fall into the latter category and are amongst my treasured book collection.
The following couple of beading books are amongst my favorites and I always find something new to inspire each time I go through them.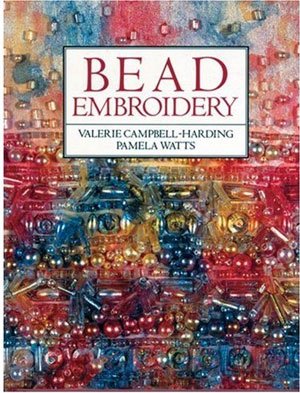 Bead Embroidery by Valerie Campbell-Harding and Pamela Watts
Bead Embroidery is a fabulous book for beading enthusiasts. This book is more of a techniques book than a "how-to" book and it would be difficult not to find something in this book to inspire. The techniques covered are a little unusual and often extremely artistic and creative and it's an ideal book to use to find ideas for using beads in unusual ways.
Some of the techniques include weaving with beads, trapped beads, and couched beads, and it also includes a section on how to paint and dye your beads (hard beads, not fabric beads) to color coordinate with your projects. Learn how to make "blackberries" and add beads to machine wrapped cording (one of my very favorite techniques). This is a lovely book with beautiful inspirational photos and if you're a beading enthusiast, you're sure to love this book as much as I do.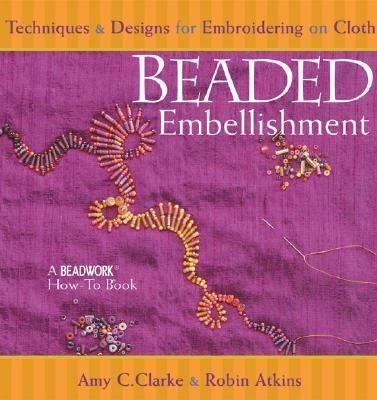 Beaded Embellishment: Techniques & Designs for Embroidering on Cloth by Amy C. Clarke and Robin Atkins
This is another of my favorite books for beading on fabric with lots of innovative ways to embellish with beads. Taking a totally different approach to beading than found in "Bead Embroidery", this book covers more conventional methods of beading on fabric and is a "how-to" book with lots of little projects and easy-to-follow instructions.
This book is also full of inspiration with lots of beautiful photos and demonstrates a variety of beading techniques including using beads to simulate embroidery stitches – lots of fun! Plus lots of was to add beaded edging and fringes.
I particularly like the projects for beaded buttons, amulet bags and a gorgeous needlecase.
If you love beading and want to learn some new techniques or just need some inspiration, you can't go wrong with either of these books.