So you want to print on fabric but are confused by some of the products that are available?
Don't feel bad, you're not alone. One of the most common questions I get asked, is to explain the difference between the liquid pre-treatments that can be used when printing on fabric using an inkjet printer.
In this post, I listed some of the products that you can use when printing on fabric which also includes several liquid products that can be used to pre-treat your fabric prior to printing, namely Bubble Jetset, Bubble Jet Rinse, Inkaid.
Let's have a look at how they differ.
Bubble Jetset and Bubble Jet Rinse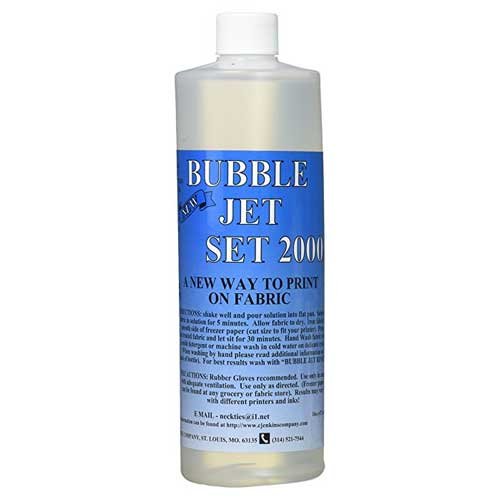 Bubble Jetset and Bubble Jet Rinse have been around for quite some years now and these products help to solve the problem that quilters once had which was – how to make a printed image on fabric using an inkjet printer, that was permanent and washable.
Bubble Jetset is a liquid solution that looks like water and is used to pre-soak your fabric prior to printing. Once dry, the fabric must then be adhered to a backing paper, usually freezer paper, before it can be fed through your printer. After the inkjet print has dried, it should be rinsed in Bubble Jet Rinse which is a mild detergent, to ensure that any excess ink is removed. This two-step process will ensure that your inkjet print is permanent and washable either by hand or machine, although when washing it's wise to remember to use a mild detergent. Detergents that have a bleach additive will fade your prints.
Inkjet prints made using Bubble Jetset and Bubble Jetset Rinse require a little time to prepare, but it's an easy process and an economical solution if you're making a lot of inkjet prints.
The alternative to using these products (and my preferred method) is to purchase commercial pre-treated fabric sheets such as my personal favorites EQ Printables.
Printing on pre-treated fabric sheets is the perfect solution for projects where you want to add a bit of hand-stitching. Because the hand of the fabric isn't affected, the fabric remains soft and easy to sew.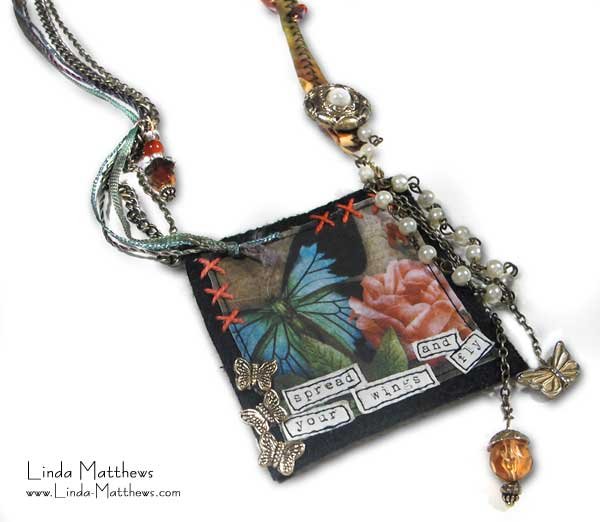 Inkaid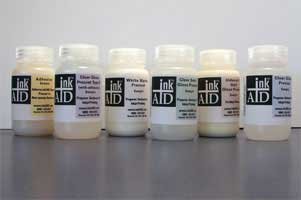 Inkaid is a product that can be painted onto any flat surface that will fit through an inkjet printer in order to make the surface printable. Normally you can't make an inkjet print on surfaces such as metal, glass or wood, because the ink won't stick, or will rub off, or will produce a very dull or poor quality print. This is particularly true for porous surfaces where the ink simply soaks into the substrate. However painting these types of surfaces with the appropriate Inkaid product seals the surface of the substrate and makes it printable, producing a very high quality, artist-grade, inkjet print.
And if you're wondering how on earth you can print on a sheet of glass or similar rigid substrate, the solution is simple – you need to use a printer with a straight-through feed.
Because Inkaid can be painted onto any type of flat surface, this means that you can also these products on fabric to produce stunning and high quality printed images that can be sewn. And not just on plain fabric, but also on textured fabric, as well as fabric that has holes in it such as cheesecloth and lace fabrics.


Fabric prints made with this product are mainly used in textile art, quilt art, and mixed media art. However I've also had great success using this process to make more functional items such as art bags …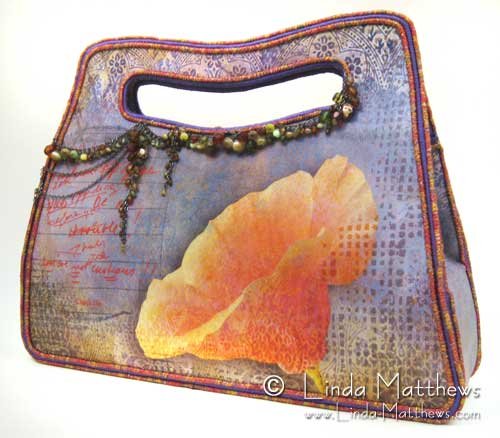 … and journal covers.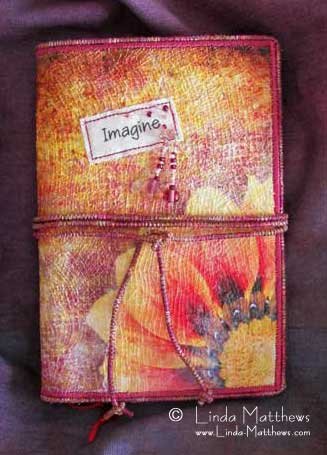 The difference between Bubble Jetset and Inkaid when printing on fabric
These products are used for totally different purposes.
However for a quick visual …
The image on the left was printed on plain white untreated fabric. The image on the right was printed on the same type of fabric pre-coated with Inkaid. To make this a fair comparison, both fabric prints were made using the exact same settings on the printer and I didn't do any tweaks to the image prior to printing. Isn't the difference amazing?


Bubble Jetset
Bubble Jetset is a liquid pre-soak that produces a chemical bond with the fabric which ensures that the inkjet print will be permanent and washable.
Fabric retains its hand so it will be soft, and when an image is printed, although it should be sharp and clear, the ink will tend to soak into the fabric more or less depending on the type of fabric you use.
This product is recommended for those who want to make inkjet prints that they can be washed either by hand or machine. So if you're a quilter who wants to print out pictures of your family to make a memory quilt that will most likely be washed at some point, then this is the product that you need to use. Either this or commercial pre-treated fabric sheets.
Inkaid
Inkaid is a product that you paint onto a surface in order to enhance the quality of inkjet prints on fabric (and other substrates), both in color and clarity of detail.
This product is painted onto the surface of a substrate which means that when the image is printed, the ink sits on top of the fabric. Fabric prints made using Inkaid will become semi-stiff to rigid and are not washable, and are used by artists who want to make high quality inkjet prints of their artwork, or inkjet prints that can be incorporated into artwork.
Learn how to print your photos and images onto fabric and get great results every time
Learn More