Some weeks I get to play a lot, some weeks not so much. This week I'm somewhere in the middle and have several projects in progress – one I'm just beginning and one almost completed.
Monoprinting
Monoprinting seems to be everywhere at the moment, probably due to the new "Gelli" plates that are now available.
I was just about to purchase the large size "Gelli" plate when I came across this recipe for making a permanent gelatin plate so decided to give it a try. And here it is – my gelatin plate.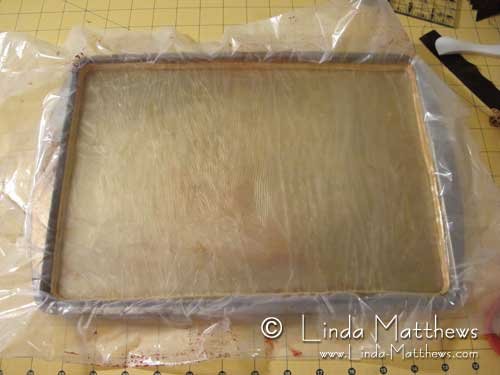 The plate is only a week or so old so I can't vouch for how long it will last however the addition of glycerine to the recipe supposedly prevents mold. I haven't done any monoprinting using a gelatin plate for quite a few years so this should be fun and I'm looking forward to doing some prints this weekend. If you want more information on monoprinting you can find some here.
Digital Eco Dyeing
I love the look of eco dyed fabric, it always looks so pale and fragile. However not having time or patience to allow nature to do its thing – (how to make rusted fabric using Wonder Under is a good example) – I turned this time to Photoshop and tried my hand at some "digital" eco-dyeing and these are the results.


It wasn't as easy as you might think to re-create a subtle "dyed" background with a decaying image (think 30-40 photoshop layers), and I think I could probably "decay" the leaf image a little more to give it more realism however I like the way it turned out and I may do some more.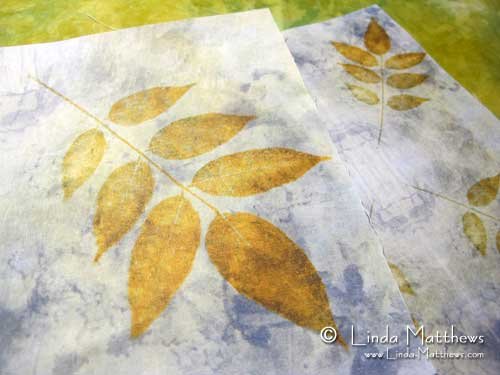 The main print has found it's way onto my sketchbook cover which I've almost completed.


I had intended to use a different image on the cover altogether, but once the creative process is in motion I've always found it best to follow along because the results are often much better than you could ever have imagined.