Traveling is one of my favorite things to do. I love to visit new places and revisit old ones. So as the recent Hurricane approached Florida last weekend and shifted it's path onto land, I decided if there was ever a time for a mini-vacation, this was it. With last year's hurricane still fresh in my memory, I knew that anywhere but here was a good place to be. So I quickly packed a bag, found a last-minute flight out of Florida, and headed to one of my favorite destinations for a few days while the hurricane passed through.
The French Quarter in New Orleans is an interesting place and I always love visiting there. The streets are laid out in a grid so it's easy to get around and it's the perfect place for a walking holiday. I always find lots of inspiration during my travels; memories and images that I can incorporate into my art. This trip was no exception.
The only way to start the day is with breakfast at Cafe DuMonde. Cafe au lait and beignets may not be the healthiest choice, but I can say with certainty it's the most delicious.


After a breakfast like that, it's time to walk it off with a stroll through the French Markets to pick up a few souvenirs. Unfortunately it was difficult to find something that wasn't made in China, so I settled for doing some people watching and picked up a few t-shirts.


I think I'll be having lunch somewhere else.


Free entertainment at the markets was provided by a 10-piece brass street band.


Then a walk down the back streets to admire the architecture.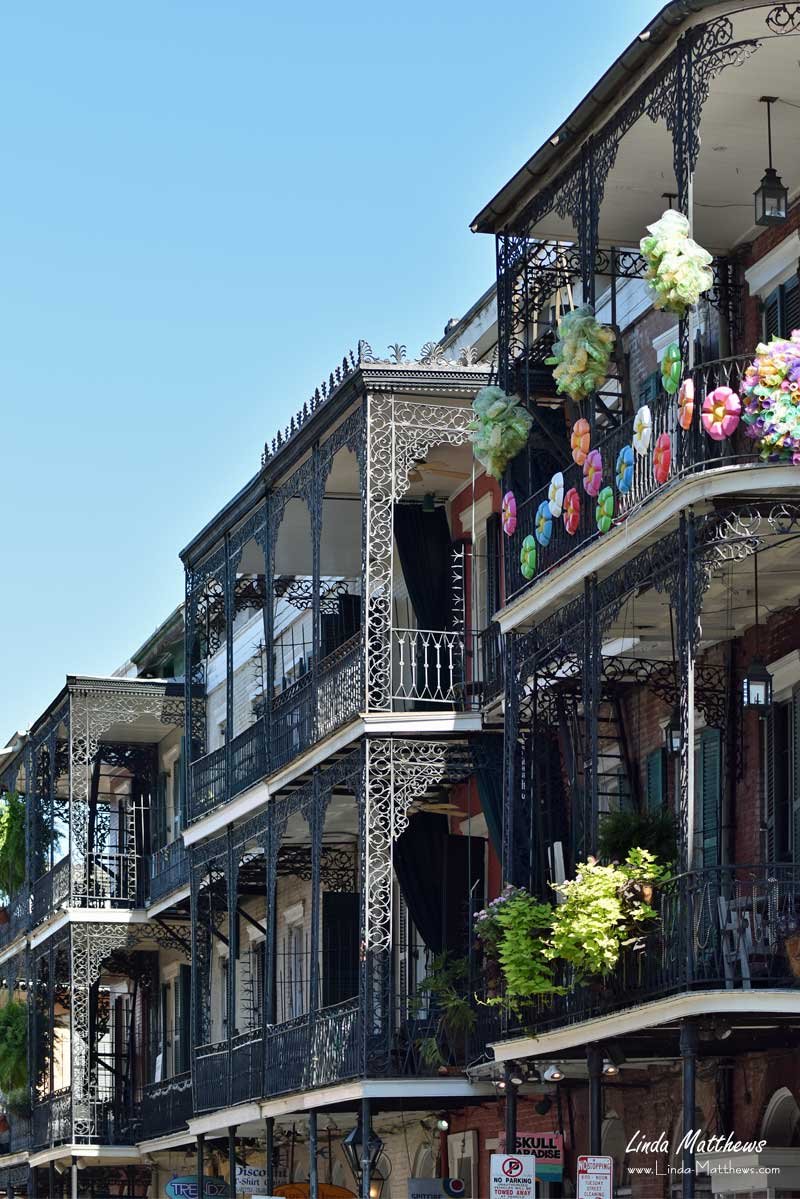 Maneuvering down narrow sidewalks.


And finding interesting stores.


Finding art in unexpected places.


I even caught the end of a street wedding parade being led by a brass band.


And of course there's always some peace to be found in nature.


As much as I enjoyed a few days respite from the storm, arriving back in Florida on the Wednesday after the hurricane was a devastating experience. It's hard to imagine the amount of damage a hurricane can do. I was fortunate not to have suffered any damage to my home although there was (and still is) a lot of debris and fallen branches from the large trees in the yard. And power was not restored until Sunday night so that was seven days in total with no power, although it felt much longer.
Dunkin Donuts was the only place in town that was open for business in the days after the storm where anyone could get some hot food. I'm not sure how they managed not to lose power, however I'm definitely thankful for hot coffee and a breakfast sandwich to start each day while we waited for power to be restored.
I'm getting things back to normal as quickly as I can and catching up with life – and business – that was interrupted due to lack of power, so to all the students in my hand-dyeing class who are waiting for a new lesson, thank you for your patience. And thanks also to everyone who sent kind words of support; it's very much appreciated.