Looking for some last minute gift ideas to sew?
These ten free and creative sewing projects are sure to inspire.
1. Scrappy Organizer
Got fabric scraps? This is your sewing project! Make it large to use as a day planner, or make it small to hold a notebook and pen.


2. Reversible Fabric Box
Fabric boxes are useful for holding all sorts of things and this free sewing tutorial shows you how to make one that's reversible.


3. Leaf Art Coasters
This is the perfect sewing project for using hand-dyed fabrics which makes the leaves look quite life-like. Use felt or batting in the middle to help soak up any spills. Perfect fabric coasters!


4. Zipper Book Clutch
Made from a real book cover, this zipper clutch can be used to hold all sorts of things. A great way to recycle old books!


5. Mug Organizer
This fabric organizer is a great way to organize small tools and items in your sewing room, or anywhere in the house for that matter. The organizer wraps around a mug or old tin can and can be adjusted to any size.


6. Geek Chic Ipad Case
The leather straps and metal hardware on this ipad case make it look very geek chic indeed and turns an ordinary fabric case into something a little special.


7. The Perfect Wallet
Make your own perfect wallet! Lots of slots for cards and cash. Plus you get to use your favorite fabric.


8. See-Through Zipper Pouches
See-through pouches are a great way to store all the bits and pieces for sewing projects and you can see at a glance exactly what's inside. This free sewing tutorial is super quick and easy and you can make loads of these in no time at all.


9. Fabric Bins
Fabric boxes and bins can be used to store any old thing and best of all, they can be made in your favorite fabric. This free sewing tutorial shows you how to make a set of three stackable bins to keep your things organized.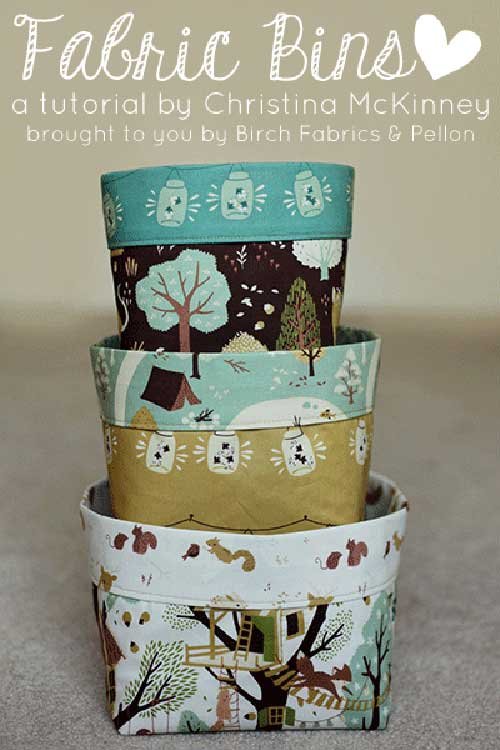 10. Fabric Teacup and Saucer Sorry, no longer available.
Finally, if you love to do a bit of hand-sewing, try my free fabric teacup and saucer pattern. Can be made simply for decorative purposes, or add a few real tea bags and give as a gift.