Having a strap or handle on your bag or purse gives you something to grab onto and offers a bit of added security so you have less chance of losing your purse while you're out and about. Adding a detachable strap to a zipper pouch or a clutch purse is easy to do using using a simple lobster clasp and d-ring, plus the metal hardware always adds a professional finish to your bag.
For this tutorial I'm adding a wristlet strap to the Easy Zippered Makeup Bag, but the process is the same for any type of bag or purse.
Supplies
One piece of fabric 1-1/2″ x 2″ for the loop and one piece of fabric 1-1/2″ x 15″ for the strap. This will give you a finished strap of 3/8″ wide by 7″ long. You can adjust these measurements as needed.
One 1/2″ lobster clasp and d-ring
Directions
Before you can attach a wristlet strap, you first need to sew a small loop with a d-ring attached, to the side of the purse. This is sewn into the side seam of the purse after the zipper has been sewn in, but before the side seams are stitched.
To make the loop, fold the short piece of fabric in half lengthways, then fold both edges in toward the center until you have a folded piece of fabric 3/8″ wide x 2″ long. You don't need to sew it.


Fold the fabric tab in half, slip on a 1/2″ d-ring, and baste in place approximately 1″ down from the zipper.


Finish sewing the purse.


To make the wristlet strap, fold the long piece of fabric in half lengthwise and finger press. Fold both the edges in toward the center and finger press.


Thread the fabric strip through the lobster clasp. Align the ends of the fabric strip together, and sew a 1/2″ seam. You should have a circle of fabric threaded through the clasp.


Topstitch down both sides of the strap close to the edge. Fold the strap and topstich from one edge to the other to secure the clasp.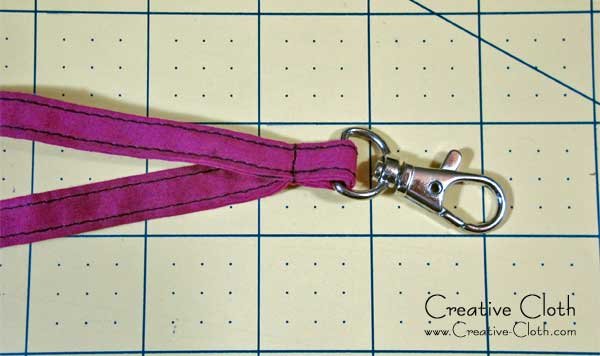 Attach the clasp the the d-ring and you're done!