Do you ever find yourself wishing you were more creative?
I do my best to make at least 15 minutes of creative space in my life every day, if not more. I find that having a regular creative practice not only helps me to be more creative, but it's also where I find a lot of my inspiration for other things. When you spend time being creative you're usually curious, and one thing leads to another, and before you know it you're inspired to try new things that you might not otherwise try.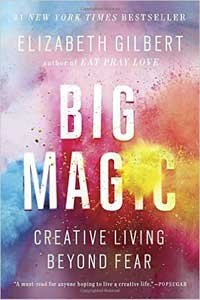 I also agree with Elizabeth Gilbert, the author of Big Magic, when she says …
A creative life is an amplified life. It's a bigger life, a happier life, an expanded life, and a hell of a lot more interesting life. Living in this manner – continually and stubbornly bringing forth the jewels that are hidden within you – is a fine art, in and of itself.
She covers of lot of topics about creativity in this book including the attitudes, approaches, and habits we need in order to live our most creative lives. If you feel scared to begin, or uncertain of your skills, or even curious about how the whole creativity thing can make your life better, you should read Big Magic, I highly recommend it. You can read more about it here on Amazon.
Even though you know something is good for you, you don't always do it. Like having a regular creative practice. It's easy to get off track when life gets busy, and before you know it days and sometimes weeks have passed before you even notice that your good habit has fallen by the wayside. It used to happen to me also from time to time, but I'm very committed to a regular creative practice, so to help me stay on track I developed my own simple tool – the 3-2-1 Creativity Tracking Journal. It takes only minutes a day to use – a few minutes in the morning, and even less time in the evening. And it keeps me right on track.
How the 3-2-1 Journal Works
Morning
The first two questions (3 things and 2 things) are completed in the morning as a way to set up your day. Doing this in the morning also acts as a reminder that that one creative thing needs to be done sometime during the day.
First set an intention for the day, something you can use to focus on during the day such as wanting to feel good, be more productive, or even to make time for some creativity.
List three things you are grateful for – and why you are grateful for them. Knowing "why" you do the things you do adds a layer of thoughtfulness to the process and you'll sometimes be surprised by what you discover.
Make a note of how you want to feel today and list two things you can do to feel this way. Having a positive attitude and outlook is a great way to go through the day – and life!
Evening
The last question (1 thing) is completed in the evening.
List the one creative thing you did today. Over time, you can use this as a way to track your creative activities.
Simple right?
Plus it's amazing how much creative work you can get done when you do it on a consistent basis.
The 3-2-1 Journal is one of those "simple but not easy" things. "Deceptively simple" because it only takes minutes a day and doesn't really ask anything of you except to answer a few simple questions. "Not easy" because you have to show up every single day and do it to reap the benefits.
But writing on a scrap of paper every day is about the most boring thing in the world and is unlikely to keep you inspired and motivated in the long term. The best way I've found to make changes in my life is to make doing them fun and easy. I also often turn them into a creative project – like the 3-2-1 Journal. This creative tool started out as a scrap of paper, then I turned it into a journal which was easier to use and fun to make. I really enjoy using it every day.
I designed the 3-2-1 Journal to keep myself motivated, and found it to be such a useful tool I'm now sharing it with you to help you stay motivated also. It takes only minutes a day to complete, but will make a world of difference to your life if you stick with it.
How to Make the 3-2-1 Journal
1. Download the 3-2-1 Journal Page
You can download the free plain page here
Or grab my NEW 3-2-1 Printable Journal Kit which you can find here in my online store
2. Print the Pages
Before you print, make sure to change the following print options: Set Page Scaling to "Fit to Printable Area", and check "Auto-rotate and Center". This will ensure that the pages print correctly.
Print out eight double-sided journal pages onto letter-size paper.
Tip: When writing on both sides of copy paper, use paper that has a heavier weight than the standard type of day-to-day copy paper. Paper that is has a heavier weight feels better for writing on, and the extra thickness will help prevent the ink from seeping through to the other side. I like to use 24lb weight paper.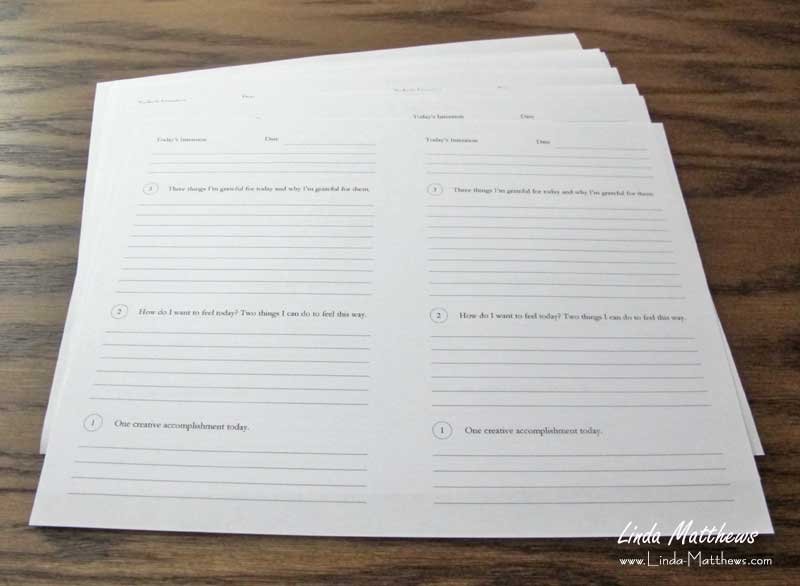 Fold each of the sheets in half to measure 5-1/2″ wide by 8-1/2″ high. This will give you 32 journal pages in total which is perfect for a month's worth of journal writing, plus one or two extra pages depending on the month.
3. Make the Journal Cover
You can make a journal cover from cardstock or any other type of heavyweight paper such as double-sided scrapbook paper.
Cut the cover the same size as the copy paper at 8-1/2″ wide by 11″ high, then fold it in half and crease down the center using a creasing tool so that it's the same size as the folded pages at 5-1/2″ wide by 8-1/2″ high.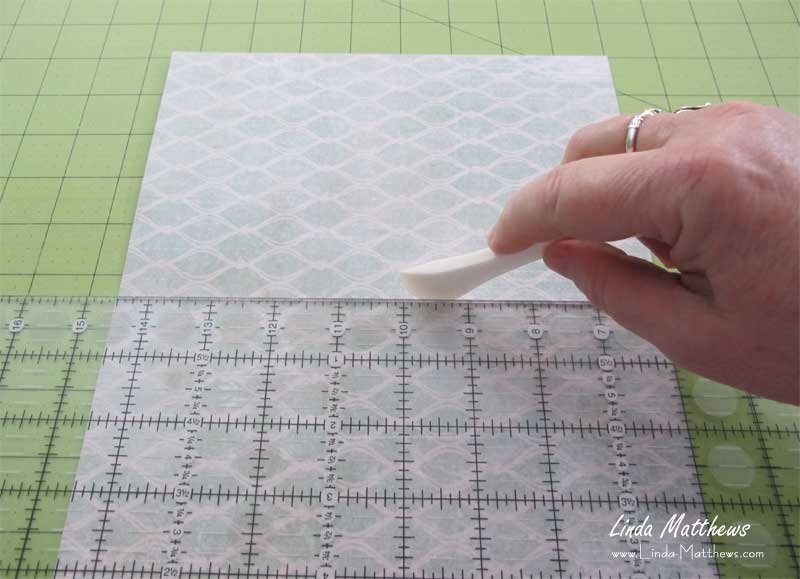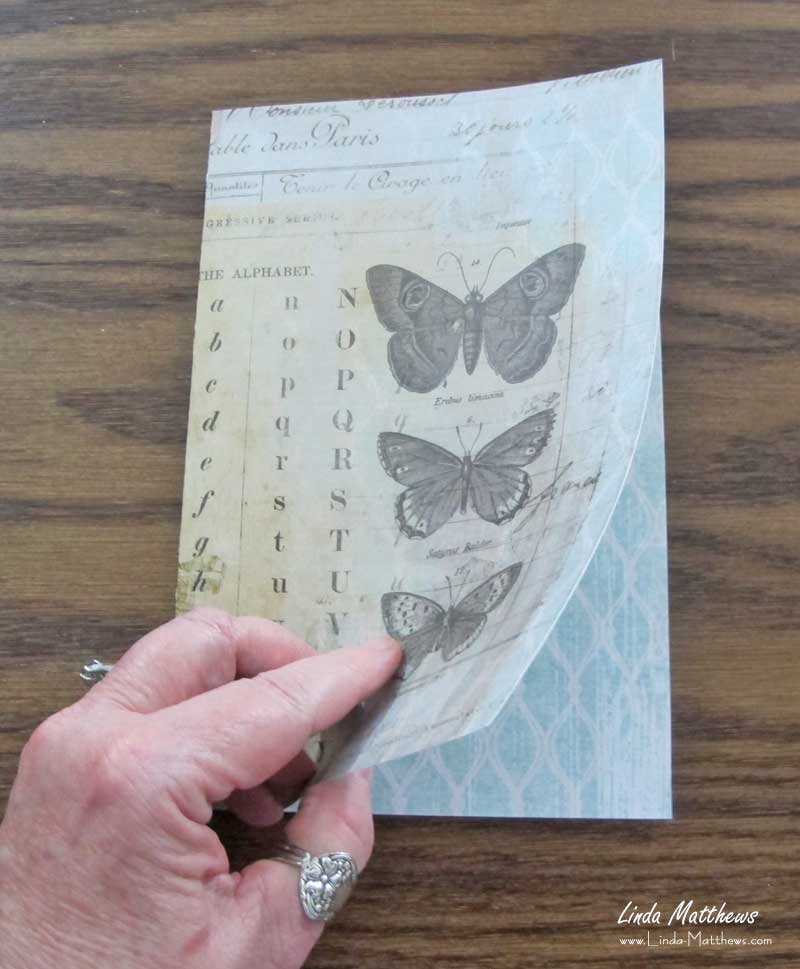 Stack the folded pages inside the cover. Because of the number of pages, the edges of the inside pages will be uneven and extend beyond the edges of the cover on the right side.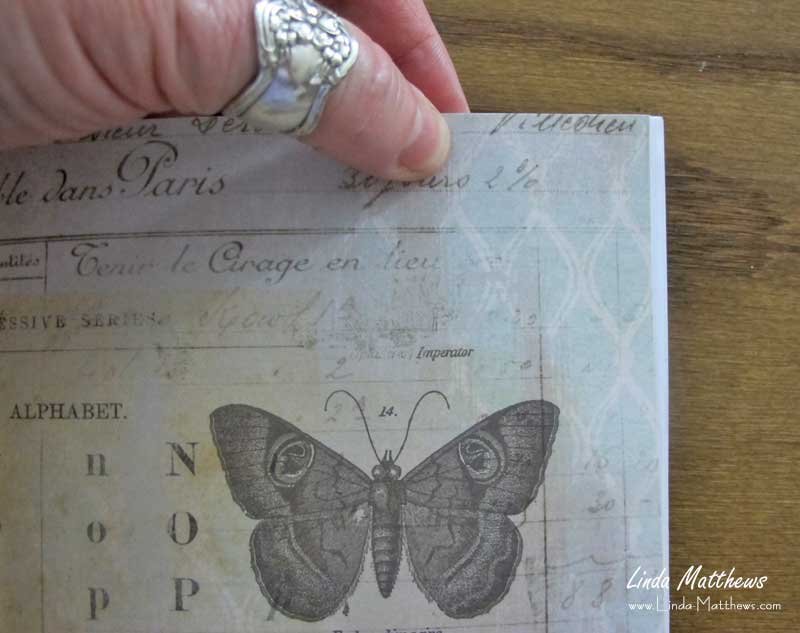 To make the edges even, stack all the pages inside the cover then trim the edges using a ruler and a rotary cutter or x-acto knife.
To make the cover more durable, tape some washi tape to the cover along the inside and outside along the center fold, and around the outside edges.
If you use scrapbooking paper to make the cover, you can use the left-over piece to make an inside pocket. Cut away a small angled section from the center to make it easier to open, and then tape the pocket to the inside of the cover using washi tape.
4. Assemble the Journal
Open the pages and stack them together with the cover on the outside, then attach some binder clips to hold the pages in position. Using a pencil, mark five equidistant dots along the center fold line.
Using an awl, poke holes through the marked dots.
Cut a piece of booking binding thread or hand embroidery thread approximately 40″ long. Using a book binding needle or a large hand embroidery needle, start sewing at the top on the outside. Bring the needle through to the inside, leaving approximately 12″ of thread on the outside. Then through the next hole to the outside, and then back to the inside.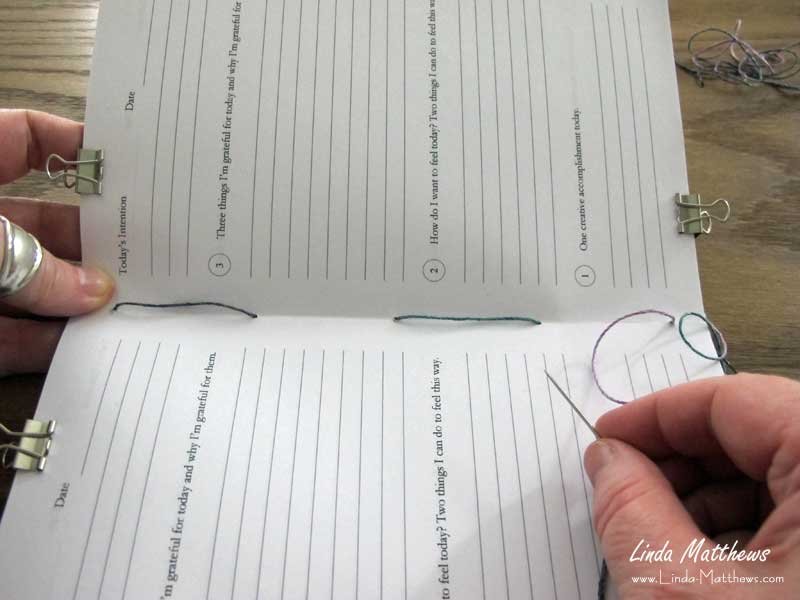 Sew back up to the top and tie off in a knot at the top on the outside of the cover.
Tie a metal charm to the end of the threads. Fold the threads over to the inside of the journal and you have a simple bookmark.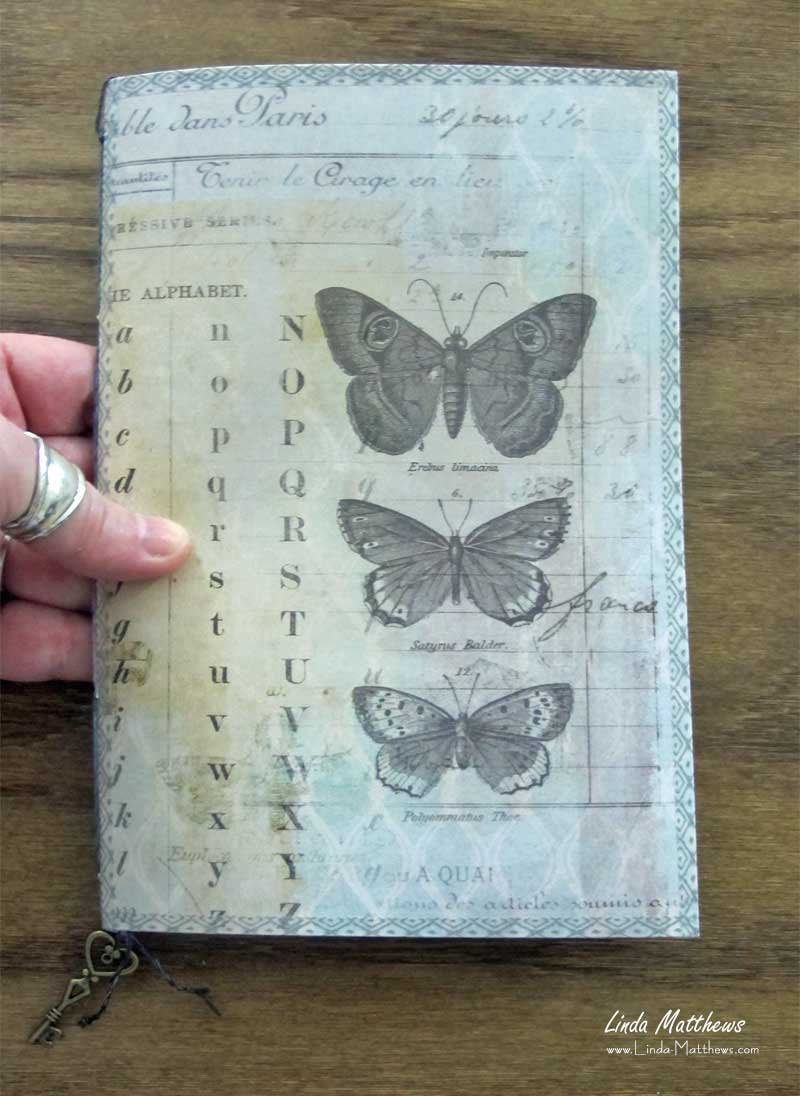 These journals are so easy to make, you can quickly make a stack to use over the next six months. And if you make them from the same block of scrapbooking paper, they coordinate beautifully.
I hope you enjoy this creative tool!
And if you think the Creativity Tracking Journal will make a difference in your life, let me know in the comments below!
Also don't forget to sign up for my newsletter to stay up-to-date with new articles and tutorials like this one!
Products Mentioned