I've been printing images and photos onto fabric for nearly 20 years and over the years I've tried all sorts of products, methods and techniques to get the best possible printed image. In the early days there was a lot of trial and error, however these days I can safely say that it's an easy process. Using the right printer with the right paper-backed fabric, a perfect fabric print is almost always achievable.
I prefer to use products that are readily accessible so I use a home inkjet printer and different types of fabrics depending on the results I'm looking to achieve. Let's have a look at the products that I use.
Inkjet Printer
I only use Epson printers that come with Durabrite or UltraChrome ink. This type of ink is classified as water-resistant which means I can make fabric prints that are washable. Although I rarely use fabric prints on anything that needs to be washed, I'm re-assured that if the prints get wet, the ink won't run.
I have fabric prints that I made almost 20 years ago and they still look as good today as they did back then. Using a printer with these types of inks also means that I can print on any type of fabric that I choose and the ink will be permanent.
I use three different types of inkjet printers
When traveling, I use an Epson WF-100 Mobile Printer. This printer is lightweight and small, and it easily fits into my suitcase for travel. I've never have any problems connecting it to my laptop either wirelessly or by cable. When I first purchased this printer, I wasn't sure how well it would work when traveling on a plane, however I've taken it with me several times in my checked baggage when traveling overseas, and it prints beautifully every time both on fabric and paper.
For making small fabric prints, I use this Epson XP-440 Standard Inkjet Printer
This is a standard home printer and I use it for printing small images onto fabric up to 8.5″ x 11″. This printer is economical to buy, uses four ink cartridges, and fabric prints always turn out beautifully.
For making large fabric prints, or for making photo-realistic fabric prints, I use an Epson P400 Wide Format Inkjet Printer. This is a professional wide format photo printer that prints up to 13″ wide and an endless length. This printer uses eight ink cartridges and the print quality on fabric is exceptional. This is by far my favorite fabric printer ever.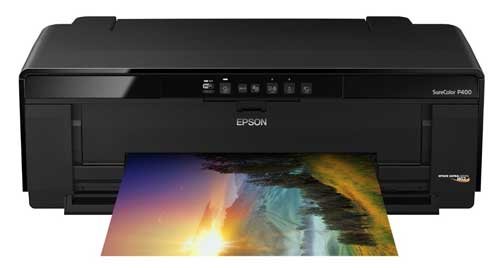 Fabric
For general purpose fabric prints I use EQ Printables Inkjet Fabric Sheets which are commercial fabric sheets that have a paper backing and are pre-treated to ensure the prints are washable. You can purchase these in standard size sheets or in a convenient roll.
Even though I use a printer with permanent inks which means I don't really need to use pre-treated fabric, I still choose to print most of my images on EQ Printables fabric because it's convenience, and I always get a consistent and high quality fabric print every time.
For large size fabric prints I use Jacquard Fabrisign which is available from Dharma Trading. This fabric comes in rolls in sizes from 17″ to 58″ wide, is conveniently backed with paper so it's ready to go through the printer, and is available in various types of cotton and silk.
For printing images on sheer fabric, I sometimes use Extravorganza which is a silk organza with a paper backing ready to feed through the printer. This is really convenient for making quick sheer prints.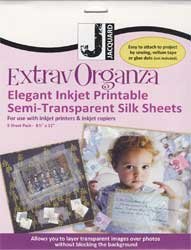 Fabric Pre-Treatments
If you prefer to prepare your own fabric rather than purchase commercial fabric, these products are recommended to ensure water-resistance and washability of your fabric prints. I personally no longer use these products as I prefer the convenience of using EQ Printables.
Bubble Jet Set is a liquid that is used to pre-soak your fabric prior to printing, and which makes your images waterproof and washable. It's suitable for use with 100% cotton and silk.
Once the fabric is dry, you can then iron it onto a piece of freezer paper which will act as a carrier so the fabric can feed through your printer. C. Jenkins Freezer Paper Sheets are heavyweight freezer paper sheets that helps to feed the fabric through your printer without jamming. Paper jams are a common problem when you use ordinary freezer paper which is quite thin and tends to curl up at the corners and edges and this can sometimes cause massive and messy paper jams in your printer.
After the image has been printed you then need to rinse it using Bubble Jet Rinse which will ensure that any excess ink is removed.
Inkaid
Inkaid is a type of paint that can be painted onto a flat surface to prepare the surface for printing using an inkjet printer. This means that you can print on any substrate that can fit through a printer such as handmade papers, metals like aluminum and copper, film, wood veneer, plastic, glass, and of course, fabric.
When you pre-treat fabric using Inkaid, it considerably enhances the color, clarity and quality of the printed image. As I've mentioned before, the difference between printing on plain fabric (left), and printing on fabric that is treated with Inkaid is quite amazing.

But not only can you use these products to prepare plain fabric, you can also use them to pre-treat fabric that previously was impossible to print on such as cheesecloth
and lace fabric
as well as to enhance the quality of images when printing on sheer fabrics.
Resources
You can see photos of my printed images here in my photo gallery, or browse through my blog.
Learn how to print on fabric
The Inked Cloth Workshop covers all the basics for printing images onto fabric. The Inked Cloth Unleashed Workshop includes the basics plus explores advanced techniques using Inkaid, gels and textures, for making fabric prints that can be used in artwork.