I posted the other day about a journal cover I made using a digital art piece called "Poppy". I really like this particular design so I used the design again to make this art bag. These art bags are made using digital art printed onto fabric treated with digital grounds and they are approximately 9″ high x 12″ long x 3″ wide.
I love this bag! The art bags, as well as being *art*, are also functional and this one hasn't left my side since I finished it. It's just big enough to hold my important stuff and I've taken it everywhere with me. It's one of those accessories that just make you feel good, like a favorite piece of jewelry or a favorite dress. You can almost feel spring just around the corner.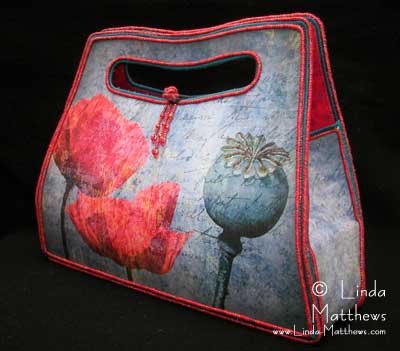 Resources
You can find additional information about the products I use here in my Resources Section.
Enjoy this post?
Sign up for my newsletter and stay up-to-date with all the latest news
Get my blog posts delivered straight into your inbox as soon as they are published!
Sign up for my Blog Email