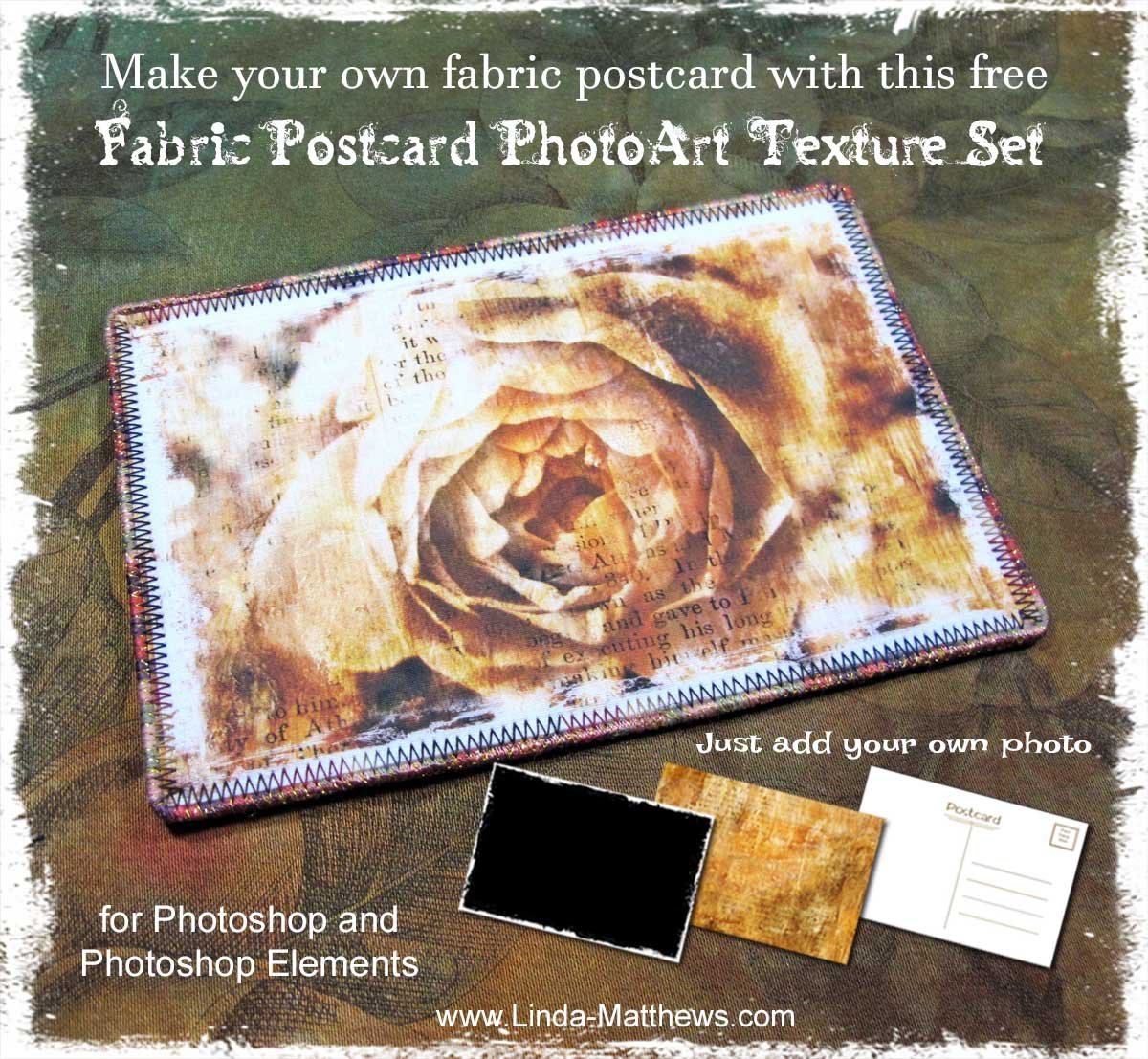 Fabric postcards are fun to make, and being only 6″ x 4″, they are also the perfect beginner project for learning how to print your images onto fabric.
Using this free Fabric Postcard PhotoArt Texture Set plus simple Photoshop techniques, you can easily create your own small piece of PhotoArt that will be perfect for printing onto fabric to make fabric postcards. Once you've finished making your fabric postcards, you can even post them!
This high resolution set of images include:
– one psd file with a background texture and one layer mask overlay border
– plus a printable postcard backing in jpg format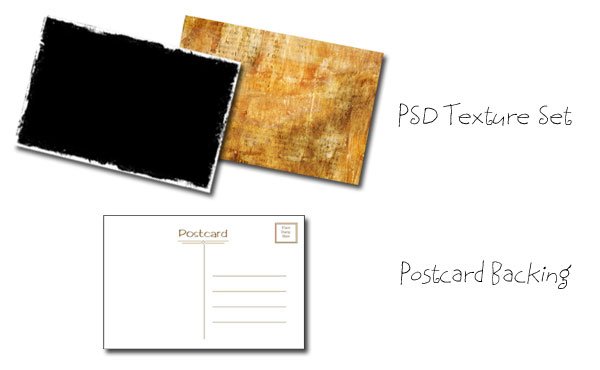 Note: these images are in a zipped file so you'll need to unzip first before you can use them.
This design set is for personal use only. See terms of use here.
Make Your PhotoArt Image
Unzip the download file and open the psd file in Photoshop or Photoshop Elements.
You'll see two layers – the background texture, and the overlay border mask which has a blending mode set to "Screen". The "Screen" blending mode makes dark colors disappear and is perfect for creating black and white layer masks that can be used for borders.
To make your PhotoArt all you need to do is add your own photo size 6″ x 4″ x 300px. Copy and paste the photo onto the layer above the background texture.
Now all you have to do is play around with the blending modes until you find one that you like. I've set this blending mode to "Hard Light" which allows the background texture to just show through.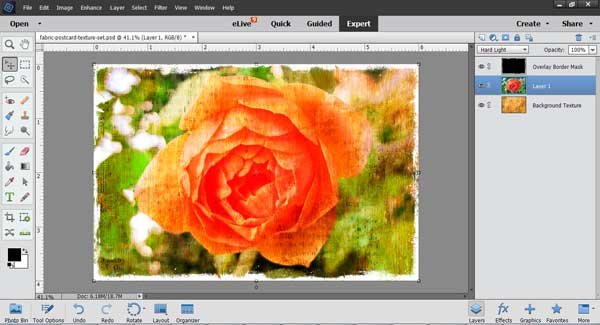 For a sepia effect which is one of my favorites, convert your photo into black and white. From the main menu select Enhance > Convert to Black and White.
For different effects, you can also move the photo below the background texture and adjust the blending mode. This is set to "Vivid" with a reduced opacity to 56%.
This texture set looks great with all sort of different types of images.
Print Your Image onto Fabric
Once you have designed your PhotoArt image, print it onto fabric. If you've never printed on fabric before, you can find my free quickstart guide here.
Make Your Fabric Postcard
You will need:
– one image printed onto fabric size 6″ x 4″
– one piece of fusible Peltex stabilizer size 6″ x 4″
– one postcard backing printed onto cardstock size 6″ x 4″ (included in the download file)
Iron the printed image onto one side of the Peltex, then iron the postcard backing onto the other side of the Peltex. Zig-zag stitch around the edges – and you're done! It doesn't get any easier than that.
Unless of course you want to get a bit fancy with your edges like I do. In which case you can find instructions for making wrapped cording here, and instructions for attaching here.
Learn how to print your photos and images onto fabric and get great results every time

Learn More