For me, the best part about embellishing is using beautiful fabric with beautiful colors to work with and what better way to acquire beautifully colored fabric than to make it yourself by dyeing it, painting it or stamping it.
If you're interested in fabric dyeing, there is no better resource than Paula Burch's website, but be warned, you could possibly spend days wandering around in there as she has so much fabulous information and inspiration including many fabric dyeing tutorials.
You'll also find some great information on the Fabric Dyeing 101 website with more free fabric dyeing tutorials including free recipes and even some business advice.
A really quick way to change the appearance of your fabric is to simply add some surface design such as simple fabric painting and/or fabric stamping.
Start out with some hand dyed or even some plain or tone-on-tone commercial fabric.
You could stamp directly onto the fabric, but I often like to begin with some free motion quilting and then stamp and paint over it.
Then add some fabric paint by painting the design. For this design I used glitter fabric paint.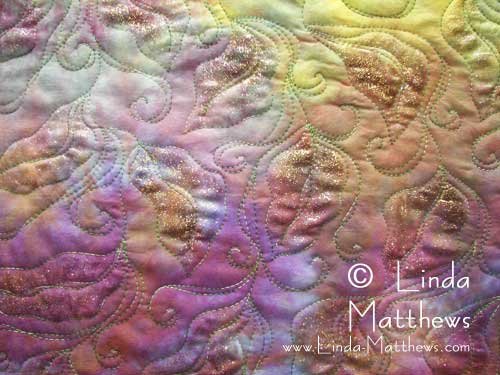 Then using a stamp, I stamped over the painted design.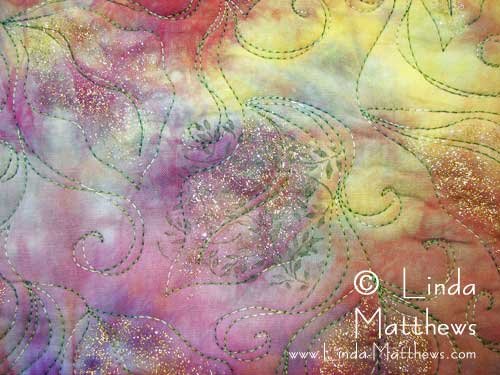 You can see how the design changes dramatically using only a simple stamp.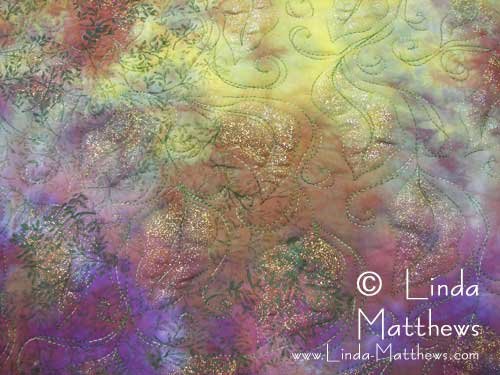 This will make a great background for an art quilt.
And if that's not enough inspiration, you can find lots of creative painting tutorials and techniques here on Alma Stoller's blog.
I hope this inspires you to play a little today.
Enjoy this post?
Sign up for my newsletter and stay up-to-date with all the latest news
Get my blog posts delivered straight into your inbox as soon as they are published!
Sign up for my Blog Email