In this week's session of the Creative Stitch Alchemy Mini-Course: Journey …
we begin the story by making the first page.
Beginnings are always exciting, and this week we're beginning the first session of Creative Stitch Alchemy which is a mini-course where I'm sharing techniques for making a personal themed mini-journal using intuitive construction and contemplative stitching. The theme of this mini-journal is "Journey".
Creating Intuitively
If you're not used to working intuitively, it can be a bit challenging. Creating intuitively means letting go of the need to control and force things to fit together in a particular way. Working in this way allows you to make art that flows from your heart and soul. When you begin to care less about the outcome and more about the journey that gets you there and what you learned along the way, then you know you're working intuitively.
Using a Theme
I always find that using a theme helps to create focus when working intuitively. It helps to shape a story that can be woven within the fabric and stitches. And in creating a narrative in this way, your art becomes more contemplative, meaningful and unique.
Getting Started
Starting a new sewing project armed only with intuition and no pattern to guide you can be a bit daunting. It's like staring at a blank page on a sketchbook and wondering where to begin.
When working with Fragments and other stitched textiles, I mostly work using fabric collage techniques. I've found that the easiest way to get inspiration is to first create a small pile of fabric shapes such as squares, rectangles and strips …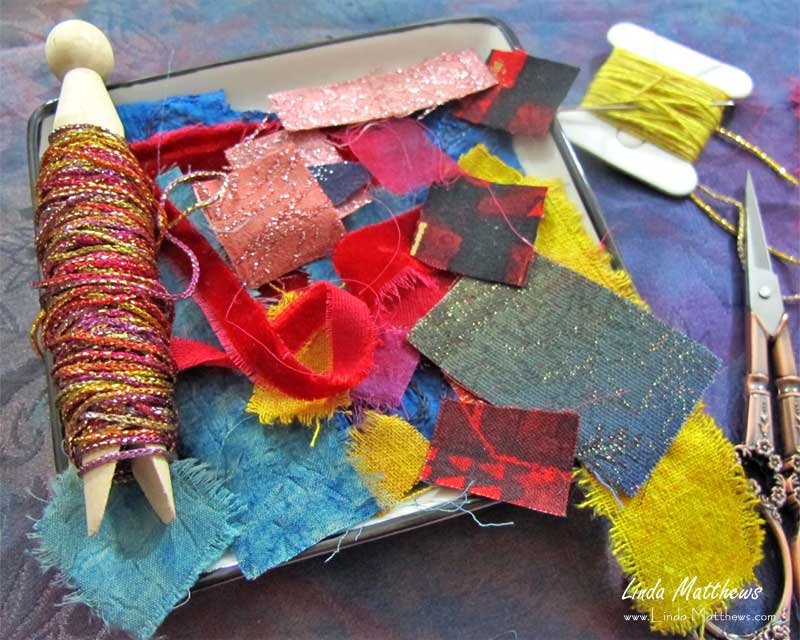 … and then use those pieces to create different types of layouts until I find one that I like.
For the cover of this mini-journal which is themed "Journey", I decided to use a spiral that I shaped out of craft wire. The meaning of the spiral symbol is journey, so I think that this is a good representation of the theme for this mini-journal. The rest of the story will be told on the remaining pages which I'll make over the next few weeks.