Learn how to make this beautiful little moon journal and discover how to journal using the lunar cycles as your calendar. Create monthly rituals so that you can harvest the energy of the moon to set intentions with every new moon, and clear space and let go at every full moon.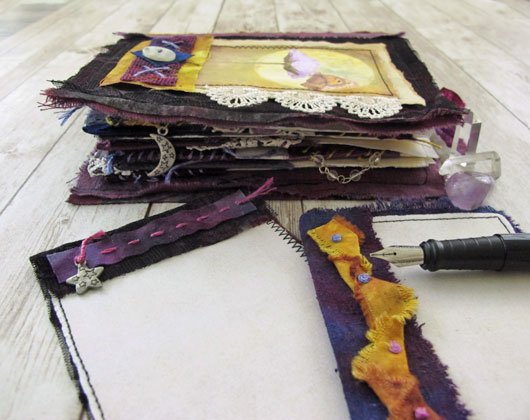 Included
Approximately 40 minutes of video tutorials available for viewing online
Downloadable supply and resource list
24/7 access to the online classroom
Teacher support
Inspiration and sharing via the Creative Art'n'Soul Facebook Group
Note: Images not included
How the class works
This class is an online self-paced workshop that you can sign up and take at any time. The online classroom is always open so you can access your lessons at any time. The lessons will be made available to you for the lifetime of this website.
Classroom Requirements
Refunds
No refunds. All sales are final.
Still Got Questions?
Register
This is a self-paced online workshop
New Students
After payment, please check your inbox for an email with a link so you can register to access the workshop.
Returning Students
After payment, please log into the online classroom where you'll find a link to your workshop.
If you experience any problems
Please email me
This video workshop is also included as part of Creative Art'n'Soul Journaling. You can find more information here
$29.95 $19.95