Create Beautiful PhotoArt using Photoshop
All my Photoshop PhotoArt classes will soon be available on Skillshare
Available for Viewing Now on Skillshare
Field of Flowers
Learn how to combine photographs, and create complex textured backgrounds using layers. Learn how to go
I Heart Text Art
Coming Soon to Skillshare
Autumn Leaves
Learn techniques for creating the special effect of a river of leaves, then work with layer masks, clipping masks, word art, textures, and extractions to create this PhotoArt image. Learn how to go
Country Lane
Learn how to blend multiple images to create a unique PhotoArt image, and how to work with selections, gradient masks and layer masks. Learn how to go
Dancing Shoes
Put on your Dancing Shoes and learn how to add emphasis to your favorite photos using creative drop shadows, and then use these techniques to create the Dancing Shoes PhotoArt image. Learn how to go
Digital Art Journaling
Learn how I create my own hand-painted digital background papers and grunge-style digital mixed media shapes and marks, then learn how to go
DIY Textures
Learn easy techniques for making your own digital textures.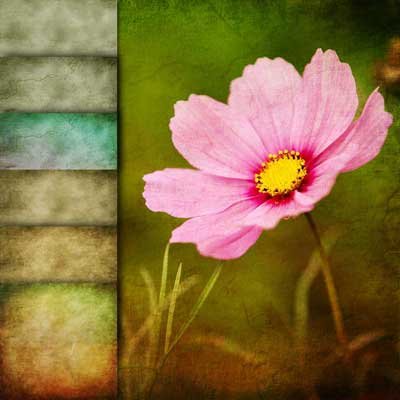 Drips'n'Drops
Learn how to create two realistic types of drips and drops from scratch as you create a beautiful piece of PhotoArt. Learn how to go
Butterfly ArtBrush
Learn how to make this complex Photoshop Butterfly ArtBrush by combining multiple brushes, marks, textures and text.
Follow Your Bliss
Create the Follow Your Bliss PhotoArt image using the Butterfly Artbrush
PhotoArt Collage
Learn how to blend multiple images to create a unique PhotoArt image, and how to work with selections, gradient masks and layer masks. Then learn how to go
The Earth Laughs in Flowers
Learn how to make your own single and cluster photo frames from real photographs, and then learn how to use a cluster frame to create this PhotoArt image. Learn how to go
Vintage Memories
Learn how to use whitespace and the Rule of Thirds to create interesting PhotoArt layouts, and learn how to add a vintage-style color and feel to your PhotoArt. Then learn how to go
Watercolor Sketch
Learn to create a watercolor sketch effect with a soft dreamy appearance that looks beautiful on all sorts of different types of photos. Learn how to go
WildFlower
Let your imagination run wild with this fun and free-spirited painted sketch. Learn techniques for stacking textures, working with brushes, layer masks and extractions, as well as techniques for fine-tuning the artwork. Learn how to go