Create Beautiful PhotoArt using Photoshop
Learn as you Create!
Learn all the techniques and processes that I use to create beautiful PhotoArt using Photoshop and Photoshop Elements.
All video classes are presented using Photoshop. However if you are proficient using Photoshop Elements, you should be able to follow along as notations are also included in the video to account for any changes between using Photoshop and Photoshop Elements. You can find links to download free trials of Photoshop CC or Photoshop Elements here.
Each class costs $14.95 and demonstrates different techniques for creating PhotoArt.
Included:
a video tutorial approximately 20-30 minutes long
a complete set of project files and resources including images and brushes, so you can download and follow along to get the exact same result as I do
the PSD source files with layers
a downloadable transcript of the video with timestamps
Video Tutorial
Creating PhotoArt
Field of Flowers
Video Tutorial
Creating PhotoArt
Follow Your Bliss PhotoArt + ArtBrush
Video Tutorial
Creating PhotoArt
Watercolor Sketch
Video Tutorial
Creating PhotoArt
Autumn Leaves
Video Tutorial
Creating PhotoArt
WildFlower
Video Tutorial
Creating PhotoArt
Dancing Shoes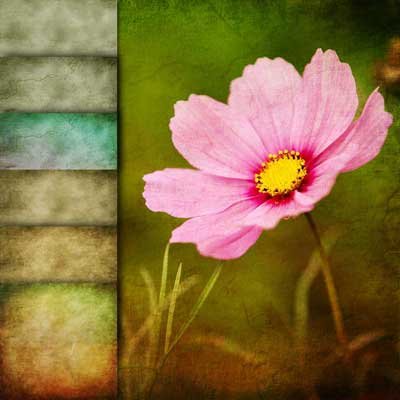 Video Tutorial
Creating Digital Textures
DIY Textures
Video Tutorial
Creating PhotoArt
The Earth Laughs in Flowers
Video Tutorial
Creating PhotoArt
Drips'n'Drops
Video Tutorial
Creating PhotoArt
I Heart Text Art
Video Tutorial
Creating PhotoArt
Digital Art Journaling
Video Tutorial
Creating PhotoArt
Vintage Memories
Video Tutorial
Creating PhotoArt
Country Lane
Video Tutorial
Creating PhotoArt
PhotoArt Collage