Create Beautiful PhotoArt using Photoshop
This PhotoArt Video Class Bundle includes
15 different video classes with over 6 hours of video
showing you a variety of techniques for creating beautiful PhotoArt
Learn as you Create!
Learn all the techniques and processes that I use to create beautiful PhotoArt using Photoshop and Photoshop Elements.
All video classes are presented using Photoshop. Although the videos provide step-by-step instructions, it's helpful if you have a basic knowledge of how Photoshop works. You can find free basic beginner tutorials here on the Adobe website. If you are proficient using Photoshop Elements, you should be able to follow along as notations are also included in the video to account for any changes between using Photoshop and Photoshop Elements. You can find links to download free trials of Photoshop CC or Photoshop Elements here.
Each class demonstrates different techniques for creating beautiful PhotoArt and includes
a 20-30 minute video tutorial
a complete set of project files and resources including images and brushes, so you can download and follow along to get the exact same result as I do
the PSD source files with layers
a downloadable transcript of the video with timestamps
PhotoArt Classes Included in this Bundle
Autumn Leaves
Learn techniques for creating the special effect of a river of leaves, then work with layer masks, clipping masks, word art, textures, and extractions to create this PhotoArt image.
Country Lane
Learn how to blend multiple images to create a unique PhotoArt image, and how to work with selections, gradient masks and layer masks.
Dancing Shoes
Put on your Dancing Shoes and learn how to add emphasis to your favorite photos using creative drop shadows, and then use these techniques to create the Dancing Shoes PhotoArt image.
Digital Art Journaling
Learn how I create my own hand-painted digital background papers and grunge-style digital mixed media shapes and marks.
DIY Textures
Learn easy techniques for making your own digital textures.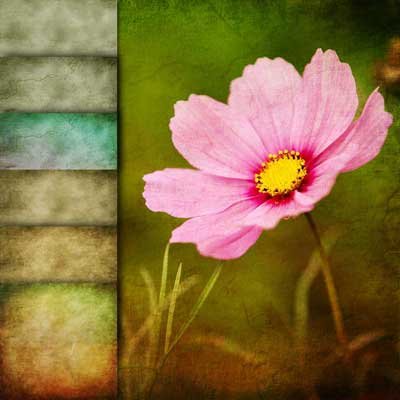 Drips'n'Drops
Learn how to create two realistic types of drips and drops from scratch as you create a beautiful piece of PhotoArt.
Field of Flowers
Learn how to combine photographs, and create complex textured backgrounds using layers.
I Heart Text Art
Learn some of my favorite techniques for taking an ordinary photo and turning it into a stunning piece of digital PhotoArt using the magic of Photoshop
Follow Your Bliss ArtBrush
Learn how to make this complex Photoshop Butterfly ArtBrush by combining multiple brushes, marks, textures and text.
Follow Your Bliss PhotoArt
Create the Follow Your Bliss PhotoArt image using the Butterfly Artbrush.
PhotoArt Collage
Learn how to blend multiple images to create a unique PhotoArt image, and how to work with selections, gradient masks and layer masks.
The Earth Laughs in Flowers
Learn how to make your own single and cluster photo frames from real photographs, and then learn how to use a cluster frame to create this PhotoArt image.
Vintage Memories
Learn how to use whitespace and the Rule of Thirds to create interesting PhotoArt layouts, and learn how to add a vintage-style color and feel to your PhotoArt.
Watercolor Sketch
Learn to create a watercolor sketch effect with a soft dreamy appearance that looks beautiful on all sorts of different types of photos.
WildFlower
Let your imagination run wild with this fun and free-spirited painted sketch. Learn techniques for stacking textures, working with brushes, layer masks and extractions, as well as techniques for fine-tuning the artwork.
How things work
The online classroom is always open so you can access videos and downloads at any time.
The online content will be made available to you for the lifetime of this websiteIn the event that the website closes or the content needs to be removed, you will be given at least three month's notice so you have time to download all your files if necessary.
Classroom Requirements
Refunds
No refunds. All sales are final.
Still Got Questions?
Sorry, this class is closed to new registrations
Register Now!
Register now and get immediate access to the classroom
Payments are handled via Paypal. You don't need a Paypal account when paying by credit card; you can simply use the guest checkout.
New Students
After payment, please check your inbox for an email with a link so you can register to access the workshop.
To ensure you receive the email please add my email address to your contact list – [email protected]
Returning Students
After payment, please log into the online classroom where you'll find a link to this bundle of workshops.
If you experience any problems
Please email me (Mon-Fri)

Save when you purchase this bundle!
Individually these classes will cost you over $200.00
You pay only
$125.00 USD