Turn your photos and digital images into stitched treasures!
I love nothing more than to capture moments in time with my camera, manipulate those photos, and then print them onto fabric to create digital art cloth. I then stitch and embellish these fabric images to create my own unique textile art.
Learn how to print your own photos and images onto fabric and have them turn out perfect every time! Fabric prints can be incorporated into memory quilts, textile and quilt art, wearable art, photo quilts, and mixed media art – your creative options are endless.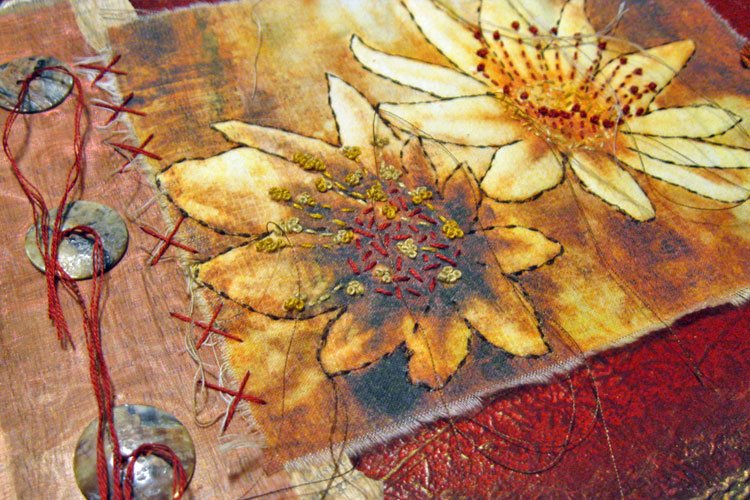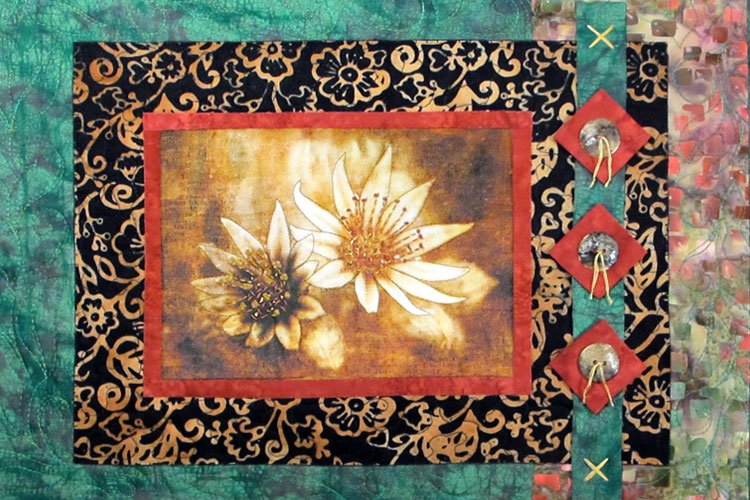 Who is this workshop for?
This workshop is for anyone wanting to learn the basics of printing your own images, photos or digital designs onto fabric.
What you'll learn
Use your own images and photos, or choose images from the included resource library, and learn the basics of printing them onto fabric using a standard home inkjet printer. Learn how to touch up photos to remove scratches, spots or other imperfections using Photoshop and Photoshop Elements, and learn how to resize images and photos in preparation for printing. If you don't use Photoshop or Photoshop Elements, you can you use own preferred photo editing software. Also discover the best types of fabric to print on, how to make your fabric prints permanent and washable, and how to get the best possible color quality. Plus lots more helpful information, resources and tips.
Workshop materials include
The Inked Cloth eBook – a downloadable pdf eBook containing all the step-by-step instructions included in this class
30 minutes of video training showing you how to prepare your fabric sheets and how to print on them
Quick Start Guide
Step-by-step tutorials:

How to Make Fabric Sheets Using Bubble Jet Set
How to Print on Small Pieces of Fabric
Photo & Image Quality
How to Get Better Color Quality
How to Prevent Paper Jams

Free projects designed by me so you can practice your printing (and sewing) skills

Spread Your Wings Notebook Project
Soul Whispers Pendant Project

Resource library of copyright-free images that you can download and use
24/7 access to the online classroom so you can work at your own pace
Recommended Inkjet Printers
An inkjet printer is a requirement for this workshop and although you can print on fabric using any type of inkjet printer, some printers are better than others. The information below gives you a general idea of what type of printer you will need to have. Additional information and supply list will be provided after you sign up for the class.
Special Note
Although I've been printing images and photos onto fabric for about 15 years and my own printers have never suffered a permanent injury due to problems such as paper jams, if you are at all concerned about potential damage to your printer, then you should purchase an inexpensive printer for the purpose.
Recommended
L-Shaped Feed …
the paper feeds from a tray located at the back of the printer in a downwards angle, curves slightly and then exits at the front.
Straight-Through Feed …
the paper feeds from the back (or the front) of the printer and exits at the front (or the back) traveling in a straight line.
Not Recommended
U-Shaped Feed…
the paper feeds from a horizontal tray located at the front or on top of the printer, feeds into the printer and makes a u-turn curve in order to exit.
Note: This type of printer is not recommended because it is more prone to paper jams and poor print quality than the other two types. However if you are confident about using it, you are more than welcome to use it for this class.
Espon XP-440 (Amazon associate link)
I use and recommend this Epson XP-440 printer. It prints up to 8-1/2″ wide and up to 44″ long and it uses Durabrite (pigment) ink so your prints are permanent and water-resistant. This printer is inexpensive and robust and is a good starter printer for printing on fabric, as well as everyday use.
How the class works
This class is an online self-paced workshop that you can sign up and take at any time.
The online classroom is always open so you can access your lessons at any time. The lessons will be made available to you for the lifetime of this website
Refunds
All sales are final.
This is a self-paced online workshop and once registered you will have immediate access to the contents.
Still Got Questions?
Read the classroom FAQs or email me.
Register
This is a self-paced online workshop
New Students
After payment, please check your inbox for an email with a link so you can register to access the workshop.
To ensure you receive the email please add my email address to your contact list – lindam@linda-matthews.com
Returning Students
After payment, please check your inbox for an email with a link so you can log into the online classroom where you'll find your workshop.
If you experience any problems please email me (Mon-Fri).
$30.00 USD
Payment can be made by paypal or credit card via the paypal website.
If paying by credit card you don't need a paypal account.
You can find more information here.