Creative Journaling that Speaks to Your Soul
Journaling is a powerful way to connect with your soul on many different levels.
Journals can be used in lots of different ways such as a meditative practice, a creative practice, a space for healing,
and a way to explore and understand yourself and your world a little better.
Creative Art'n'Soul Journaling is a year-long journey exploring techniques for making beautiful journals, and process for using them. Each month a new video workshop will inspire you to create and play with fabric, thread and paper in a whole new way to make beautiful and creative journals that can be used as a place to hold and treasure your personal stories.
I'll be sharing my tips and techniques for making all types of journals, as well as ideas and processes for using them. It's my hope that along the way you'll discover just how rewarding creative journaling can be, as a way for telling and sharing stories, for personal healing, or simply for the sheer joy of making beautiful art books.
But more than that … throughout the year you'll begin to create habits and routines that can enhance and even change your life and the way you view the world. You'll ignite the creative fire that lives inside all of us. Even though you might not think of yourself as a creative soul, trust me, you are … we all are.
New in November 2018
In the November video workshop I'll be showing you how to make a very easy but creative starter journal which has a simple cover design that can be creatively embellished, an inside cover pocket, a hidden spine, and blank vintage tea-stained pages that are just begging to be used.
This journal is very easy to make using a sewing machine as well as some hand stitching, and is the perfect beginner journal project. If you've never made a stitched journal before, you'll be amazed at how easy this one is. Experienced journal-makers will also appreciate the simplicity of the design which can be easily altered to create a vintage, shabby chic, or even a nature journal depending on how you embellish the cover.
This month's bonus set of printables is a beautiful vintage writing journal kit.
Coming in December 2018
The Creative Vision Planner Journal
This is a year-long planner journal where you'll get to design your best and most creative year ever!
Check back later in the month for details, or sign up now and don't miss out!
Included each month with Creative Art'n'Soul Journaling
a 20-30 minute video demonstrating techniques and processes for making and using creative journals
a set of 12 printable pages, papers and other types of journaling ephemera that you can download and use in your creative journals
additional inspiration, free projects and tutorials, and journaling techniques on my blog
24/7 access to the online classroom
Teacher support, inspiration and sharing, via the Creative Art'n'Soul Facebook Group
Bonus Free Mini-Journal Project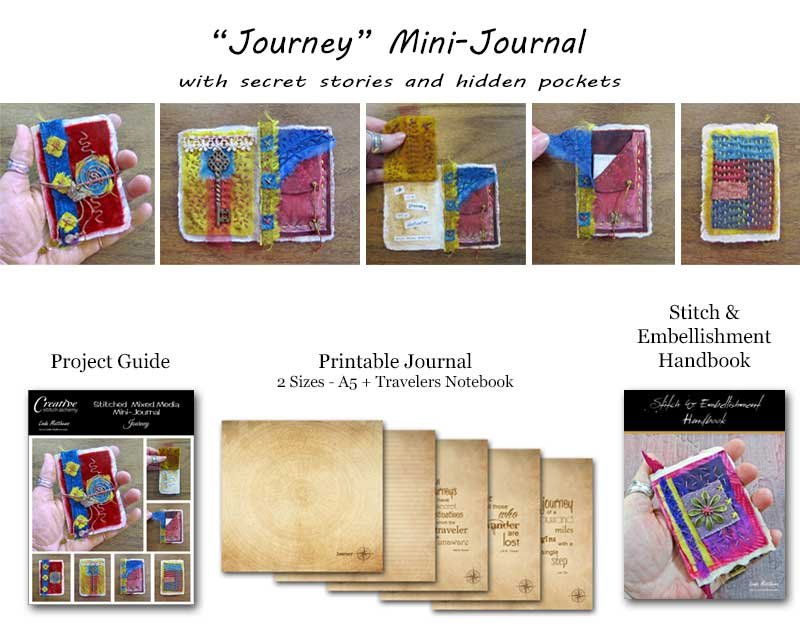 How the class works
Creative Art'n'Soul Journaling begins 1st November 2018 and runs for 12 months. You can sign up at any time and get access to the current series of video workshops as well as any upcoming workshops – a full year of tips, techniques and processes for making and using creative journals. An email notification will be sent to you on the 1st of each month letting you know when new content has been added.
The online classroom is always open so you can access videos and downloads at any time. The online content will be made available to you for the lifetime of this website
Refunds
No refunds. All sales are final.
Still Got Questions?
Read the classroom FAQs or email me.
Register
Register now and get immediate access to the classroom
Payments are handled via Paypal. If paying in full, you can pay by payapl or by credit card. You don't need a Paypal account when paying by credit card; you can simply use the guest checkout. If paying by payment plan you will need a current Paypal account.
New Students
After payment, please check your inbox for an email with a link so you can register to access the workshop.
Returning Students
After payment, please check your inbox for an email with a link so you can log into the online classroom where you'll find your workshop.
If you experience any problems
Please email me
One-Time Payment
a full year of Creative Art'n'Soul Journaling
Nov 2018 – Oct 2019
Payment Plan
More information about payment plans can be found
here in the FAQ
$35.00
/ Month for 3 months