Learn how to hand-dye your own fabrics, decorative fibers and threads
to achieve uncommon and unique results
using Procion MX fiber reactive cold water dyes

(for natural and cellulose fibers such as cotton, rayon, linen, hemp and silk)
One of my goals for teaching this class is to encourage you to develop color wheels, dye recipes and color palettes that are unique to you and totally different from what everyone else is doing. Being different is what will make your hand-dyed fabric and fibers stand out from everyone elses.
… Linda Matthews

I've been hand-dyeing my own fabrics, decorative fibers and threads for over 30 years and during those years I've invested an inordinate amount of time experimenting with color mixing and dyeing techniques (in a mad scientist sort of way) to create unique colorways and unusual texture patterns, and also use to create unique collections of fabrics, decorative fibers and threads that would coordinate together without looking too much the same.
Eventually I developed a technique that I call "Assemblage Hand-Dyeing" and I used this technique to build a successful business selling my hand-dyed fabrics and fibers. I retired my hand-dyed business last year so I could spend more time teaching, so now I get to share with you everything I know about creating beautiful and unique hand-dyed fabrics and fibers.
So what is assemblage hand-dyeing?
An assemblage means a group of things gathered or collected; an assembly; a collection.
It's also the perfect word to describe the way that I love to hand-dye, using a collection of different fabrics, decorative fibers and threads that are hand-dyed using the same colorway, but with unexpected and uncommon results every time.
Assemblage hand-dyeing is the perfect way to create unique fabric and decorative fiber collections that can be used in all your textile art and sewing projects.
All the resulting colors within the collection will be similar, but not quite the same, resulting in different tones and shades and different texture patterns. Your finished sewing project will have an overall cohesive look through color and texture, without everything looking the same.
This is Not Your Usual Hand-Dyeing Class
In this class you'll learn how to hand-dye in order to discover perfection within imperfection.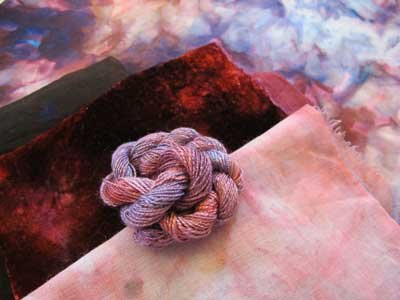 Hand-dyeing is not an exact science. The results are variable depending on lots of things – type of water, water temperature, atmospheric temperature, types of fabrics and fibers, dyelots. It is quite a bit of work to be able to replicate a color precisely from one dye bath to the next, and from one fabric type to another.
At one point in time I tried to do exactly this and discovered that dyeing became more about science than it did about being creative and making artful fabric. It was stressful and it was not fun.
So I stopped trying to dye for perfect results, and instead began to apply the Japanese philosophy of wabi-sabi to my hand-dyed fabrics and fibers. Instead of aiming for perfection, I began instead to look for the beauty that resulted from the imperfect process of hand-dyeing.
When I started to look at my hand-dyed fabrics in a new and different way, what happened was that the fabric became almost magical.
Where before I would see nothing but flaws, weird shapes, and unusual textures, now I could see that every piece of fabric was a unique and never-to-be-repeated piece of hand-dyed art.
And best of all – hand-dyeing became fun and easy!
In this workshop you'll learn to dye fabrics, threads and decorative fibers that are perfectly imperfect.
You'll be exploring techniques for creating hand-dyes that explode with impact in both texture and color. You'll make coordinated collections of fabric, thread and decorative fibers using my "Assemblage Hand-Dyeing" techniques, as well as individual pieces that can be hand-dyed to coordinate.
You'll make hand-dyes that are so beautiful and unique, you'll have a hard time cutting them up.
What's in Store
Assemblage Hand-Dyeing for Textile & Fabric Artists will take you on an exploration of the hand-dyeing techniques I have used over the last 30 years to create beautiful and unique hand-dyed fabrics, threads and decorative fibers. I use these fabrics and fibers in my own textile art, and I also sold them as part of my hand-dyeing business which I retired last year.
During the first several weeks you'll begin by exploring the basics of color theory and color wheel dyeing. This information provides the groundwork that you'll need for learning how to create all the colors under the sun using only three or four dyes. You'll need a good understanding of color theory in order to create your own dye recipes which will be the difference between making ordinary hand-dyes and extraordinary hand-dyes.
You'll also discover how to make shades, tints and tones, as well as gradations (dark to light shades), color runs (blending two or more colors), and also overdyeing which is handy for giving do-overs to "ugly duckling" fabric as well as creating entirely new color combinations.
Once the groundwork is done, during the following weeks you'll dig deep into Assemblage Hand-Dyeing and explore all the different techniques for creating unique hand-dyed collections of fabric, thread and decorative fiber. Assemblage Hand-Dyeing is extremely flexible and can be combined with other hand-dyeing techniques such as low water immersion, parfait dyeing, microwave, shibori and tie-dye, tray dyeing, overdyeing, ice and faux snow or real snow depending where you live plus my own specialty techniques – no water immersion and fabric cocktail dyeing.
Nature-Inspired Hand-Dyeing
I have a great love of nature and am inspired by it every single day so I love to create nature-inspired colors. In this section of the workshop I'll share easy techniques for creating nature-inspired colors as well as experimental processes for hand-dyeing fabrics, threads and fibers in the colors of nature.
Cocktails Anyone?
Fabric Cocktails that is!
Learn how to create Assemblage-style hand-dyes plus coordinating single-color fabrics.
I'll be sharing my secrets for dyeing "sticks and stones" to get brilliant and saturated color
Yes there's a trick and dyeing silk carrier rods and cocoons, and it's easier than you think.
I'll even be sharing some of my favorite dye recipes
And I'll also teach you how much fun it is to develop your own.
Not Much Space for Dyeing?
I'll show my portable dye studio and how I ran a business out of my small kitchen for years. Yes it can be done safely.
Is this Workshop For You?
Assemblage Hand-Dyeing for Textile & Fabric Artists is a comprehensive workshop that will teach you how to create beautiful and unique hand-dyed collections of fabrics, fibers and threads. The lessons cover the use of low water immersion hand-dyeing techniques to create rich visual texture, color variations, and random and unexpected patterns.
This workshop is suitable for beginners who have a basic understanding of color theory and how dyes are mixed, as well as experienced hand-dyers who are looking for additional creative techniques to add to their hand-dyeing toolbox.
A full and complete supply list is available after registration and includes links to my favorite suppliers for dyes, fabrics and fibers, as well as the dye codes and corresponding product numbers for the following dye suppliers:
US – DharmaTrading, Prochemical & Dye
Canada – G & S Dye and Accessories
UK – Kemtex
Australia & New Zealand – Kraftkolour, Dyeman
In general, to replicate all the dye recipes and techniques presented in the workshop will require the purchase of approximately 12 different dyes, yardage in different types of fabric, a variety of different types of threads and fibers, as well as dyeing containers and other miscellaneous equipment. You can download the Supply List Overview for a list of requirements.
Quick-Start Guide
If committing to such a comprehensive workshop is a little intimidating, included in the workshop is a Quick-Start Guide which allows you to get started using only four dyes. Students have life-time access to the workshop materials, so you can work through the lessons at your own pace and purchase additional supplies over time as needed. The Quick-Start Guide makes the workshop a little less intimidating for beginners, and a more affordable way to get started with Assemblage Hand-Dyeing.
Lesson Overview
Week One: Getting Started
Overview of supplies, color theory, color wheel dyeing
Learn how to create your own personalized color wheel
Week Two: Dyeing Techniques for Fabric
Learn how to use your fabric dyeing color wheel as you begin to explore the relationship of colors and how they can be mixed and blended to create amazing colors for your fabric.
Week Three: Dyeing Techniques for Thread and Other Fabric Embellishments
Thread, Ribbon, Lace, Decorative Fibers, Cord, Silk Cocoons & Carrier Rods
Week Four: Assemblage Dyeing Techniques
Low Water Immersion, No Water Immersion
Week Five: Assemblage Dyeing Techniques
Ice & Snow/Faux Snow Dyeing
Week Six: Assemblage Dyeing Techniques
Microwave Dyeing
Week Seven: Assemblage Dyeing Techniques
Shibori/Tie Dye Dyeing
Week Eight: Assemblage Dyeing Techniques
Parfait Dyeing
Week Nine: Assemblage Dyeing Techniques
Tray Dyeing
Week Ten: Nature Dyeing
How to mix colors of nature + experimental nature dyeing techniques
Bonus Lesson – Acid Dyeing using Procion MX cold water dyes (for silk and wool)
Did you know that Procion MX cold water dyes can also be used as an acid dye?
Although traditional acid dyes are best suited for dyeing wool, both silk and wool can be dyed quite successfully using Procion MX cold water dyes using citric acid instead of soda ash. In this free bonus lesson I'll show you how. (Microwave + steamer or stove-top steamer required)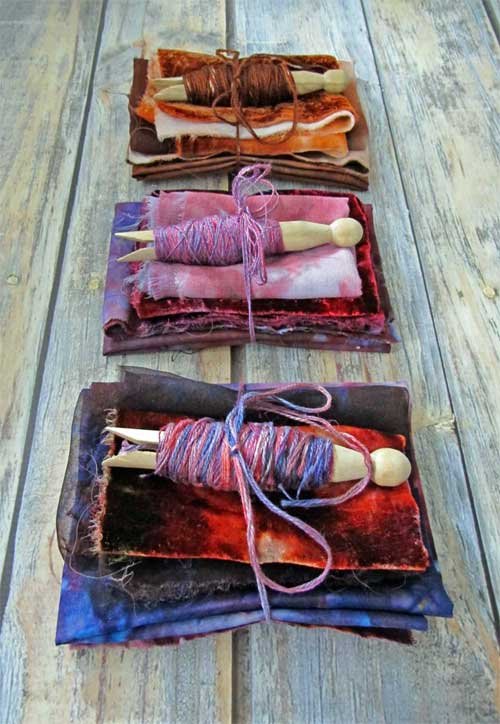 How the class works
The lessons will be available in a private online classroom where you can access your lessons 24/7. This means that you can work at your own pace if you choose. After the workshop ends, you will still have online access to the lessons which will be available to you for the lifetime of this websiteIn the event that the website closes or the content needs to be removed, you will be given at least three month's notice so you have time to download all your files if necessary..
Workshop materials include
Downloadable pdf documents with instructions and other relevant information
Worksheets, calculators and charts to make the process easy
Online videos demonstrating the techniques and processes
24/7 access to the online classroom so you can work at your own pace
Teacher assistance, photo sharing and discussion in my private Facebook Group